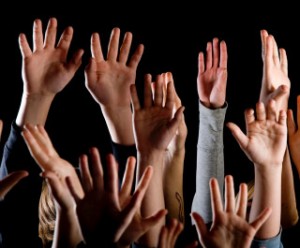 Today's post is written by Jo Anne Taylor, Director of Music and Worship at Bethlehem Covenant Church in Minneapolis, MN.
I have a friend whose e-mail signature includes Revelation 7:9-10:
"After this I looked, and behold, a great multitude that no one could number, from every nation, from all tribes and peoples and languages, standing before the throne and before the Lamb, clothed in white robes, with palm branches in their hands, and crying out with a loud voice, 'Salvation belongs to our God who sits on the throne, and to the Lamb!'"
Maybe that seems like an awfully long e-mail signature to you, but it is my friend's dream of what worship should be: every nation, tribe, people, and language praising God together. I'm one of those people who think God wants us to start rehearsing for this kind of worship now, here on earth. But how do we go about that, especially if we come from a homogeneous cultural setting?
When one of the Better Together members asked, "Does anybody serve in a multi-ethnic congregation … and if so, how is that reflected in your worship services?" it reminded me of a question that has bothered me for a long time: how can a dominant-culture leader authentically serve a congregation that includes a variety of minority cultures, especially when that leader has had no experience living as a minority?
So this week, I've asked Jelani Greenidge to help me get the conversation started. Our prayer is that you will engage with us, and that together, we can begin to figure out how to encourage worship that is culturally authentic, and pleasing to God.
Jelani, what is your dream for multi-ethnic, multi-cultural worship? How can we move toward worship that honors the many cultures represented in any congregation?
Well Jo Anne, in the spirit of finding common ground, I can say with certainty that we already agree on a few things, like for example that Rev. 7:9-10 is way too long for an email signature (imagine that in the Amplified version? yikes).
I also agree that if that's what our worship will look like in heaven, and we consider our congregational gatherings to be a sort of earthly choir rehearsal to prepare us, then we ought to start practicing that multicultural, multi-ethnic dimension now.
But still it's a little different. The inherent tension in this idea of "on earth as it is in heaven" comes from the fact that heaven and earth aren't exactly in the same area code. There is so much that we don't know about what heaven is like, how can we possibly anticipate this with any kind of specificity?
It's like premarital counseling. Premarital counseling is good, and often necessary, but insufficient compared to actual life experience. How could I possibly, by sitting through a series of counseling sessions, accurately understand or anticipate what it would be like to be married? Like the apostle Paul in 1 Cor 13, I could see a little bit… dimly. But there was really no way for us to fully understand or appreciate it until we were actually in it. In that sense, being married (or having kids, for that matter) is not something you can totally figure out ahead of time, but something that you just do, and with faith and humility, figure out as you go.
This marriage analogy seems especially salient when you're talking about multi-ethnic church worship, because in the few chances I've had to counsel others who are considering entering into interracial marriages, one of the foundational truths I've always leaned on is the idea that when you're talking about marriage and culture, every marriage is intercultural. Everyone has their own personal diversity wheel that informs a sense of who they are, and they bring that into all of their relationships.
This is also true of churches and church ministries. Every church is multicultural to some extent, whether it's in age, denominational backgrounds, family sizes, or personality differences. The relevant question for us is, what dimensions of diversity are being represented in our worship services, especially with regard to our worship music?
You asked, "how can a dominant-culture leader authentically serve a congregation that includes a variety of minority cultures, especially when that leader has had no experience living as a minority?"  A good place to start is in breaking down what the dominant culture consists of, because there probably is a lot of diversity just within that cultural designation. Culture is race and ethnicity, but it's also place of origin, family structure, culinary tradition, professional background, etc.
Jo Anne: The lenses we use to see the world, in other words?
Jelani: Exactly.  Consider that the term "White" is a social construct, and that many of the ethnicities now considered White went through a period where they were excluded. Then ask yourself, what are the cultural dimensions in our congregation that we as leaders don't represent personally?
Jo Anne: Some congregations are working intentionally to be more inclusive as they plan and lead worship. To see how North Park University works toward ethnic diversity in its Chapel planning, for example, click here. I keep thinking about the idea that the Covenant started out as an immigrant church. And we still are, in many respects, it's just that we represent more people groups now than we ever have before.
Jelani: Definitely true, and it's like what Efrem Smith said… just when we think we've escaped our immigrant heritage, here comes another group to remind us where we've come from.
Jo Anne: Frankly, I worry that I am going to inadvertently say or do something that someone from another culture may find offensive. One of my seminary professors was fond of saying, "the gospel will always offend, but we don't have to add to that offense!" Yet I know that taking this risk is necessary if dialogue is ever going to begin, and effective multi-cultural ministry can ever become the norm.
Jelani: I also think that cultural understanding and competency is not a binary thing, where you either have it or you don't. It comes in waves and layers. So once as a leadership you have identified a couple of areas where your worship ministry (I'm focusing on music here, but the same can be said about other art forms) could have some of its boundaries pushed out a little, you gain some insight, and you make a few changes, and then you observe, and then you keep tweaking and watching and praying and listening and dreaming until one day you look up and you marvel at how far God has taken you. It's a never-ending process.
Jo Anne: I am eager to hear from others on this topic, too. Shall we invite them into our conversation?
Jelani: Absolutely… what do you all think?