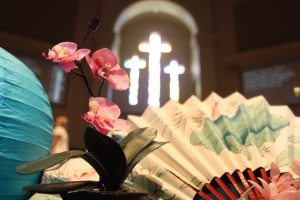 This week on the ECC Worship forum we welcomed several new members, discussed practicalities such as presentation software (Pro Presenter was the overwhelming consensus), and even discussed (at some length) the complexities of music and its relationship to taste; much like garage sales, it seems that what may be one person's ear ache is another's inspiration.
It was a strong reminder that music is an intensely cultural commodity, and while there is not a single culture on earth that does NOT have music, its form varies quite a bit from culture to culture. From the drums of Africa to the sitars of India to the organs of Europe to the guitars of America and Australia, music takes on many, many forms, and even within cultures one may find a plethora of styles and tastes. As our world shrinks, these styles collide with one another, with near-infinite possibilities and combinations.
What is an arts pastor to do in such a world?
We have so many choices, and in America, it seems that the congregations for which we are to curate worship gatherings have such a wide variety of preferences that it's nearly impossible to find a medium. The successful blended gathering is a rarity that seems to please fewer people than it offends (it takes very special people to curate these well), and offering a gamut of gathering styles spreads our resources too thin. Throw in a desire for excellence, to honor each culture or taste represented, and it's a perfect storm. I've known churches who burned through worship pastors faster than a teenager burns through phone battery precisely because they could never seem to deliver what their members wanted; to curate a worship gathering to the preferences of a congregation is no easy task.
Except that a worship gathering isn't about our preferences.
In 1 Chronicles, David, in an act of worship, says these words: "I will not take for the LORD what is yours, or sacrifice a burnt offering that costs me nothing." Worship, it seems, is not about what we want at the expense of others. Instead, worship throughout the scriptures is about sacrifice, about giving of ourselves, at our own expense. It's an orientation of our attitudes, of our choices, of our hearts and minds towards God, where God is the subject of the story rather than ourselves. Our gatherings, then, are less about what music we find to be exciting, tasteful, and preferable, and more about a weekly rhythm of growing as a corporate community into the character and principles of Jesus.
Sure, we have our tastes, and yes, we have our "heart-languages," those primary culture in which we feel most strongly at home. And in no way am I saying that we shouldn't be allowed to engage in worship through music that we love – I get to do that every week! But as we grow and mature in our faith, so too must we come to understand that living in a way that mimics the character of Jesus means living less for ourselves, less for our tastes, less for our preferences, and more towards serving others, more towards sacrifice for those that are less mature. By living the example of Jesus' life, we are leading others to better understand and mimic that sacrificial lifestyle. Sometimes that looks like getting to sing the hymns or songs that we love, that we feel connects us more strongly to the movement of the Spirit. But other times that means sacrificing our preferences and choosing to worship through the preferences of others, by singing their hymns or songs with as much passion as we sing our own.
—-
How does your church maintain that tension between preference and sacrifice?