This past weekend I had the privilege of attending the Covenant women's retreat in Tolu, Colombia. There were 108 women present from all over the country. Many traveled by bus and car 9-11 hours to participate in the event. There was such joy as the women arrived at the hotel and the joy continued into the weekend. Many of these women worked hard to pay for this retreat – selling food, making crafts and selling them, etc. Some had participated in past retreats and were looking forward to connecting with friends they hadn't seen in years. For others it was their first retreat. It was wonderful to see the generations gathered, as a young girl participated with her mother and as more and more young women participated alongside women in their 60s and 70s.
The theme of the retreat was "Streams in the Desert." Our speaker for the retreat was Pia Restrepo, who happened to be our regional coordinator for missionaries in Latin America. Pia is a phenomenal teacher and she introduced us to several women in the Bible who experienced these desert experiences. Her illustrations, visual aids, reflection questions, and prayer times spoke profoundly to the women present. One of the young men from the hotel who was helping with sound even thanked her for her teaching. As I sat in the seminar sessions with these women I experienced different emotions. One was that of awe at the strength and gifts of the women present. The other was burden. So many of these women have lived through extremely difficult situation. They are survivors of abuse, they are struggling with illness, they are struggling with difficult ministry situations, they are mothers who ache for their children who are not following Christ. It was a privilege to share with them; to listen to their stories and pray with them. God is working through the women in Colombia to bring peace and healing to families and communities.
Several moments during the retreat stood out to me personally. One was the time I had to simply rest and enjoy the view of the ocean. It is amazing what a few days by the water can do for my spirit and perspective. I had a wonderful afternoon talking with friends as we watched the waves tumble in on the shore. We couldn't go in the water because just a few weeks ago there was an oil spill in that area and the ocean is contaminated. Still, we could walk along the beach each morning and watch the sunset over the water each night.
The second moment that stood out to me was watching the women praise God during our night of Jubilee. Every woman was invited to wear white and they received a flower necklace. We sang songs of praise and the women danced expressing their joy to God. It was a beautiful scene.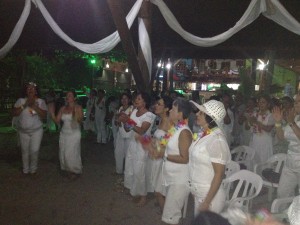 And third, on the last day after Pia's teaching she invited the missionaries to come forward and just gave a word of appreciate for each of us and invited the participants to pray for us as she anointed us with oil. Then she invited the pastors and pastors wives to come forward, to be anointed with oil and prayed for. And they in turn went and prayed for those women they serve alongside. It was a powerful moment for me. We need each other! We need to pray for each other, to listen to one another and encourage each other. I'm thankful that this retreat provided us time to do this.