Our home church in Chicago, Resurrection Covenant Church, has been using the Barmen Declaration as "an intentional exploration of the 'other way' of Christ" during this season of Lent.  Throughout these weeks, members of the community have been asked to write reflections to the different sections of the Declaration.  I was asked to participate and reflect on the second section and thought that I would pass along my thoughts here on our blog as well.
As the Covenant Hymnal notes, "The Barmen Declaration was written in 1934 as part of an early resistance to the Nazi movement and its effort to take over all of life. Intended to speak for the German Evangelical Church (Lutheran, Reformed, and United), this landmark post-Reformation confession sets out clearly the church's source of authority in the Word, its sole identity in Christ, and its prophetic relation to nation, culture, and society. It reminds Christians that, while residents of this world and citizens of particular nations, they are not servants of any nationalism or other ideology that may compromise absolute loyalty to Jesus Christ and true loving service to any neighbor."
The Barmen Declaration: Section Two

"He is the source of your life in Christ Jesus, who became for us wisdom from God, and righteousness and sanctification and redemption." (1 Corinthians 1:30).

Just as Jesus Christ is the pledge of the forgiveness of all our sins, just so – and with the same earnestness – is he also God's mighty claim on our whole life; in him we encounter a joyous liberation from the godless claims of this world to free and thankful service of his creatures. 

We repudiate the false teaching that there are areas of our life in which we belong not to Jesus Christ but another lord, areas in which we do not need justification and sanctification through him.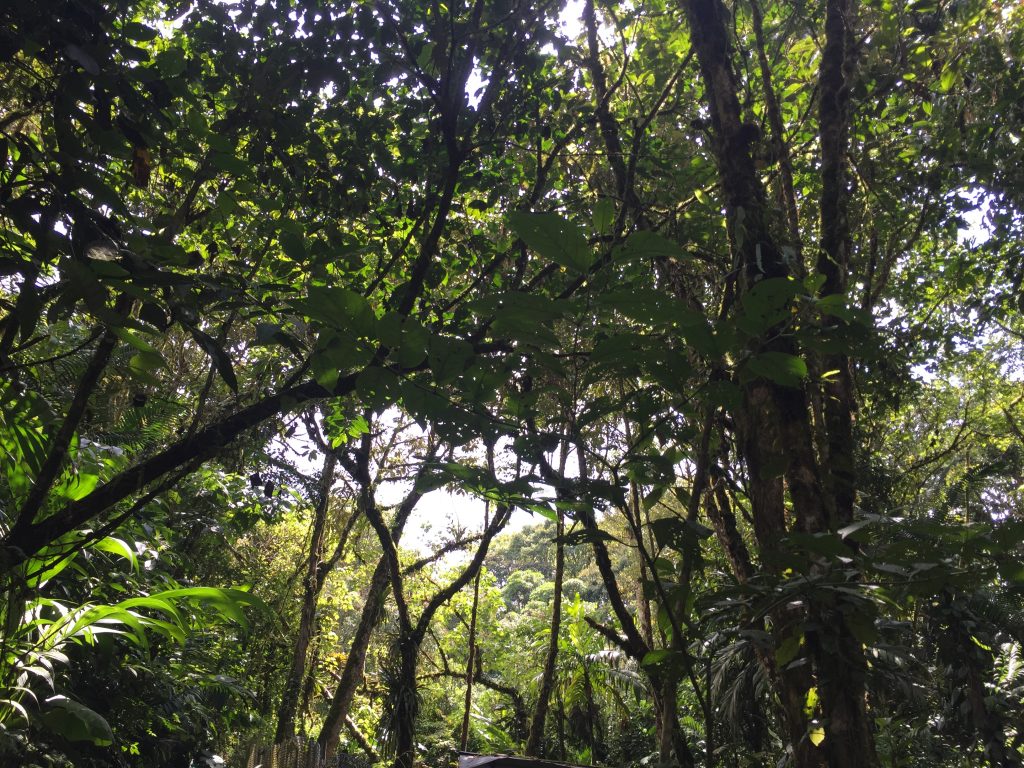 A reflection ::
On Ash Wednesday of last year, I walked the dark streets of Chicago with Jessica Suk to the evening service.  Wearing knee length coats and laced up boots, we trudged through freshly fallen snow enjoying the chance to catch up without the interruption of a myriad of children.  The barren tree branches creaking in the wind and the darkness that surrounded us seemed to be a fitting environment in which to enter a service that would remind us "that from dust we came and to dust we shall return."  Another way in which for me the liturgical year always seems to line up so nicely with the way that we experience seasons in the northern hemisphere.  We begin our Lenten journey in the dark and the cold with the earth dead all around us. We end it with Easter, when spring is finally starting to make its mark – with life, and newness and renewal and promise of abundance to come.
This year on Ash Wednesday, I found myself trekking down a trail in the Amazon rainforest.   While I peeled off my outer layer and walked the trail in just a t-shirt, I thought about that walk I shared with Jessica last year and how much more fitting the background of the cold and barren land seemed to fit with my perspective and experience of Lent.  Yet here I was, surrounded by the epitome of abundance and life and flourishing in the natural world.  As I walked along noting the varying shades of green in my surroundings and listening to the laughter of my children as they discovered new bugs that we had never seen before, my attention was drawn to the reality of the jungle floor beneath me.  There on the ground – death and decay and all the brown, lifeless color I have always associated with this season.  And it is because of that death and decay that all of the flourishing and life and vibrancy of the jungle can have its being.
This new metaphor and shift in my perspective helped me to start asking some questions from a slightly different angle in this journey toward the cross this year. Where are we experiencing flourishing in our life and what is the source of that growth? What communities and people do we continue to keep underfoot so that we experience the growth we see in our own little section of the globe?  Do we truly trust that we will "encounter a joyous liberation", as spoken of in the Barmen Declaration, if we continue to daily turn over all areas of our life to Christ, both personal and corporate?  Is the growth and flourishing that we see in our homes, our churches, our communities coming from sanctification and justification through the death and resurrection of Christ, or is it happening because we are continuing to demand the death, oppression and suffering of the most marginalized among us? In the knowledge that Christ is the source of our life, where are we missing the mark in creating space for life and thriving for all others?
As we continue to journey toward the cross, whether on cold, Chicago streets or on muddy jungle trails, may we learn to more fully trust in "God's mighty claim on our whole life" and yearn more deeply for the true life and flourishing that is possible only when Christ is our source.