Wednesday night of CHIC
Judy Peterson
addressed John 5's question, "Do you want to be made well?" with those gathered. You have a "choice to be made well or not – no one can make the decision for someone else." She spoke the good news that "Jesus came for those who need help getting well" and again reminded the gathering that though "Jesus can make you well, he will not 
make
 you well."
Truth is, we aren't sure always how to make the better choice: "to stop sinning, you have to stop sinning!" Sometimes it is as easy as not doing something any longer. Other times our actions are a result of systems and structures that make it seem like it isn't a choice any longer. Then again, its often difficult to see how things could be any different from the way they appear to be now.
Jesus told the man at the pool in John 5 to "pick up your mat and walk" — a mat that the man had lain upon for 38 years, in all his many days of sickness, waiting in filth to get in the pool as the waters were stirred. Judy used a yoga mat to illustrate parts of her struggles, the sin and filth she had sat in for years before encountering the living God. She spoke of the difficulty there was in becoming a new person in Christ, and how God encouraged her by saying "it is in the change that I am evident." Just as the man picked up his mat and walked, followers of Christ are called to pick up our mats daily and follow after Jesus whose saving grace and mercy, forgiveness and love, is apparent in the changed lives of those who do so.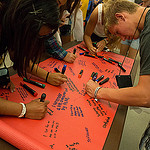 After Judy brought the word, attendees were welcomed to take part in communion. All were invited, before going to the communion table, to take a marker and write sins they'd like to leave behind on yoga mats placed throughout the arena mezzanine. It was a holy time as students and leaders approached the table.
Following CHIC those holy mats, filled with confession and lament, were examined and a list of what was written on them was compiled. Those of us who have seen the breakdown were struck by the evidence of what was most confessed and thought it good to share with all you leaders as you are planning conversations with students, their parents, etc. Here are the big numbers, broken into 4 categories of sinfulness:
29.65% behavioral
46.41% relational
22.39% sexual
01.56% unchristian belief systems
How often do we instruct/counsel our students regarding their faith and sins of a sexual nature? Once a year, typically? How often do we teach about right relationships including respecting parents, teachers, and elders; caring for the widow, the orphan, and the immigrant? And, let's remember, leaders (youth pastors and parents accompanying their youth and many others) also made confessions on these mats. These confessions are not all from the youth — we're all in the mix! How can we better care for and address these sins (of both commission and omission) with our youth, our peers, and ourselves?
Let us consider together, how we can help our students to become well. How do we encourage them to pick up their mat and walk… loosen their flexor tendons and fly — free in Christ. And for ourselves and our neighbors (youth volunteers, parents, other pastors) may we continually seek to live holy lives, reconciled to God.
Written by Aune Carlson