Today's post is written by Matt Nightingale, Pastor of Worship at Redwood Covenant Church in Santa Rosa, CA.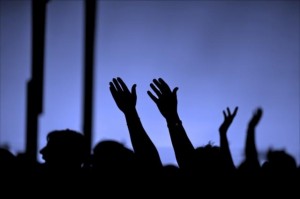 Several weeks ago, I was leading worship at RCC. I was playing piano with the band and singing a duet with a woman from my worship team. The song is intense… It's called "Wake Up," by All Sons and Daughters, and it builds from nearly a whisper to a huge chorus… "Wake up, wake up, wake up, all you sleepers… Stand up, oh stand up, stand up, all you dreamers… Hands up, hands up, oh hands up, all believers…"
I was concentrating on the piano part and singing well. I love the song, and I wanted to do it justice. I wanted it to sound awesome. But if I'm honest, I wasn't really worshipping God. Not consciously, at least. Sure, I was worshipping with my life… doing my job… leading the people God has called me to lead… But I wasn't even really conscious of God's presence with me and my connection to Him.
Until someone stood up. Up till that moment, everyone had been sitting down in the dark while we sang to them. But then, on the bridge ("Here we stand, our hearts are Yours. Not our will, but Yours be done."), someone stood up. And then another. And then another. And then everyone was on their feet, and hands and voices were raised, and it was a beautiful moment. And I realized in that moment that I had been going through the motions. That I was doing my job, sure, but not consciously connecting with the God who called me to this job. And I was grateful, again, that "the wind blows wherever it pleases. You hear its sound, but you cannot tell where it comes from or where it is going" (John 3:8). The Spirit will move, with or without my help. I was humbled and I was moved. And I felt God's presence. And it was good.
But looking back on that moment, I wonder if I was doing anything wrong. Sometimes I think the line between faithfulness (doing my job, leading the congregation, playing and singing well – even when I don't "feel it") and fraudulent (relying on my talents and experience rather than the Holy Spirit's present guidance and power) is awfully fine. When have I crossed that line? There are days when I don't feel what I hope the people of RCC are feeling, but I still show up and lead, hopefully well. Am I simply being faithful despite my feelings or am I being fraudulent?
I know you've experienced these feelings too, worship leaders. What are your thoughts? How do you guard against fraudulence? How do you remain faithful when you don't "feel it"?