Today's post is written by Geoff Twigg, Adjunct Professor at North Park University in Chicago. Geoff is a pastor, singer/songwriter, worship leader and ministry consultant, and serves the ECC as a member of the denomination's Commission on Worship.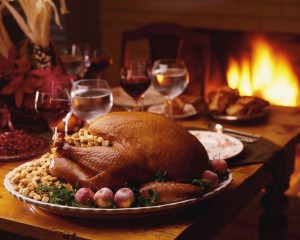 I will never forget. It was the Fall of 1992 and I was in Pennsylvania, working on a CD of Christian music with a singer named Chris Cowgill. I had met Chris and her husband Craig in England, where he had been stationed with the US Air Force, and we had already made two successful albums together when Craig was transferred back here.
A young couple, Neil and Joan Ostrander, knew that Chris and Craig were new to the neighborhood, and invited us all over to Neil's parents' house to celebrate Thanksgiving. Earlier that week I had seen wild turkeys for the first time in my life; they were wandering around the yard near the Cowgills' rental house, and Craig joked that they obviously didn't know what week it was. Oddly enough, they weren't around on the Thursday morning when we set off to visit with the "O's."
I was delighted when Neil's Dad Russell Ostrander and his wife Virginia greeted us like long-lost family members. This was my first experience of Thanksgiving, and I was eager to learn about the holiday and its background, as well as experiencing the day with a real American family – and I was not disappointed.
The house was beautifully decorated with Fall fruits and reminders of the season; a fire blazed in the hearth and we had to dress up with scarves and extra sweaters as we went outside to play football. I was still fit enough to play sports in those days (I caught the heart virus the following summer) and so I learned where to run, how to throw the ball and some basics of the game. Later we sat and watched Emmitt Smith and Troy Aikman give a masterful demonstration in the televised game, in what later turned out to be a Superbowl-winning season for the Dallas Cowboys.
I watched as Neil's Mom taught a young cousin to make Cranberry Sauce, and saw Neil as he watched his Dad carving the turkey. This was more than just interest; in so many ways I saw the elders passing on the vision and values, the treasures and traditions of America. I learned to appreciate the grateful, generous and inclusive celebration of principles on which this country set its foundations.
Thanksgiving is the one day in our calendar that reminds me of what I, still an Englishman, truly love about America. What brings a tear to my eye when I hear or sing the Star-spangled Banner; one day that seems to me to be the most Christian of all our National Holidays. And for this I am truly grateful.
I'm also struck by another thought. We use a metaphor of ourselves as 'ambassadors of the kingdom of God to a dark world' to understand our outreach. This is based on scriptural principles, for instance in 2 Corinthians 5; in that passage, we are described as ambassadors of reconciliation, imploring our neighbors to be reconciled to God.
When we're in worship together, however, we are coming home. Even if we're not local, shouldn't it feel like Thanksgiving?