We have started a new series of posts here on the Worship Connect blog. In addition to our normal Friday posts, on occasional Tuesdays we'll be profiling one of our Covenant churches. Our purpose is to celebrate God's work in and through us, to demonstrate the diversity of approaches to worship in the ECC, and to prompt prayer for one another. We are better together.
Our sixth post comes to us from Scott Austin, Pastor of Artisan Church in Rochester, NY.
Artisan Church is only about eight years old, but we worship together in a space that housed another Covenant church for decades before we inherited it. I guess that's fitting, since one of our key values is roots: we embrace history and tradition even as we strive to engage a postmodern culture. We follow a very traditional fourfold pattern of liturgy—Gathering, Word, Table, and Sending Forth—complete with corporate confessions and weekly Communion. But the worship elements that fill that pattern are quite modern.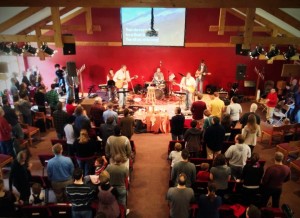 We've made a number of changes to the former worship space of Trinity Covenant Church since we started using it: we've installed carpeting, theater lights, a video projector, who-knows-how-many-thousand watts of sound, and of course the corresponding sound treatments that were necessary to accommodate our slightly raucous worship style in a space that was designed for chamber music. (Though we were recently delighted to find out that it still accommodates chamber music pretty well!)
We hope to break ground on a sanctuary expansion in the spring so we can receive the blessings of growth without adding additional services yet. Our biggest challenge at the moment is figuring out new ways to live out our value of community; as our church grows and social dynamics change, it is ever more difficult to be hospitable and welcoming to newcomers.
I've mentioned our values of roots and community. We have three others: awe, which helps us remember that we worship a transcendent God, beauty, which affirms humanity's creative impulse as part of bearing the image of a creator God, and justice, which calls us to love and work for hurting people and a suffering world.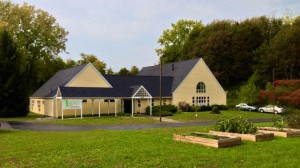 I love Artisan. I'm fond of saying that I couldn't imagine being a pastor anywhere else, and I've even been known to say that I'm not sure I could attend church anywhere else. It is a truly unique and very special place. But lately I've been struck by the humbling reality that being unique and special is not what's important. What's important is knowing, loving, and serving Jesus together.
So while the former members of Trinity Covenant Church might not recognize their sanctuary anymore, I'm confident they would recognize our Lord Jesus the same way the Emmaus Road disciples did: in the breaking of the bread. As we partake of the body and blood of Christ, we are "joined and knitted together" for his service: not only with all those who came before us, but with all those who will come after us. Even though they may end up taking apart our fancy sound system.