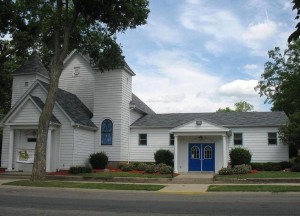 We have started a new series of posts here on the Worship Connect blog. In addition to our normal Friday posts, on occasional Tuesdays we'll be profiling one of our Covenant churches. Our purpose is to celebrate God's work in and through us, to demonstrate the diversity of approaches to worship in the ECC, and to prompt prayer for one another. We are better together.
Our second post comes to us from Rick Lindholtz, Lead Pastor at Valley Covenant Church in Stillman Valley, IL.
Valley Covenant Church, in Stillman Valley, IL, is a ministry that began in 1885, the same year as our denominational family. But Valley started as a somewhat independent ministry of Scandinavian Christians. For a period of time, there was a Mission Covenant Church and a Free Church; eventually they merged and alternated between Covenant and Free Church pastors. It wasn't until 1953 that they became exclusively a Covenant Church.
Stillman Valley is a small rural community (pop. 1100) about 30 minutes from Rockford and 90 minutes from Chicago. There are three churches in town: Kishwaukee Evangelical Presbyterian, known locally as "Kish"; Congregational Christian Church, known locally as "the red brick church" (that's even their web address!); and Valley, regrettably known locally as "the white church." (Because of our clapboard siding, not that other thing you were thinking!)
Like the Covenant itself, Valley is no longer an exclusively Scandinavian church, though we still retain descendents of the church's founders among our membership. And like Stillman Valley, our church is a smaller church. Attendance on a typical Sunday currently runs between 70 and 100, composed of families from Stillman Valley, Byron, Davis Junction, and other small communities.
I began serving Valley Covenant as Lead Pastor in August 2011. Before coming here, I had pastored Covenant Churches in Michigan, Washington and Texas. I also spent 9 years on the ministry staff of Christ the King, a large Lutheran Church in Kingwood, Texas, as a specialist in communications, worship arts, and technical ministries. I will always, always be grateful for my sojourn with my Lutheran friends, yet I always believed that God would eventually call me to return to Lead Pastoral ministry in the Covenant.
When I was exploring the possibility of a new call, what attracted me to Valley Covenant were 4 traits:
• Bread of Life, a missional ministry of feeding the poor by means of food distribution and a soup kitchen. Bread of Life serves our communities beyond the scale you would expect for a church of this size. That impressed me. Bread of Life "distribution days" twice a month are my favorite days, because I see the Body of Christ doing mission and people being helped.
• Valley Covenant PreSchool, another great ministry which has been serving the community for over 35 years. Our preschool ministry touches more people than I might've expected for a church of this size.
• Youth Ministry – Valley Covenant had a full time youth pastor, when most churches of this size don't have full time youth staff. After 8 years here, our youth pastor accepted a call to another Covenant Church in his home state – just weeks after I'd accepted a call to come here. We're now very happy to have welcomed a new youth pastor just this month, and excited to see him step into ministry partnership with us.
• Vision. Lastly, the church has just closed (with cash) on 6 acres of farmland 2 miles from here, halfway between Stillman Valley and Byron. We hope to develop a new church facility within the next 3-6 years. That spoke to me of a vision for the future – both figuratively and literally, this is a church that does not plan to stay where it has been.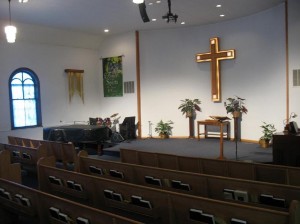 Worship at Valley is blended. We honor the best, classic hymnody of the past, led by piano and occasionally, organ; and we feature the best of contemporary worship led by a small band (piano, bass, 1-2 guitars, drums (when we can find a drummer) and 2-3 vocalists. Our contemporary music is typical – in the last year we've sung 20 of the CCLI Top 25, as well as the occasional original song. A list of current composers whose writing generates enthusiasm and appreciation among our people would include familiar names like Baloche, Tomlin, Townend and Getty, and many others.
Like most Covenant Churches, Valley Covenant worship is grounded in sacred traditions – chief among these are celebrations of Holy Communion on the first Sunday of each month, and Holy Baptism. We value speaking God's Words together, confessing sin, affirming forgiveness and declaring common faith.
This is a season when Valley Covenant seeks to be reaching younger families and bringing a constantly renewing freshness and vitality to a ministry that has been offered with faithfulness for many years. As we press on toward the goal, to win the prize of God's high calling, we invite your prayers and deeply value our partnership with you, our larger Covenant family.