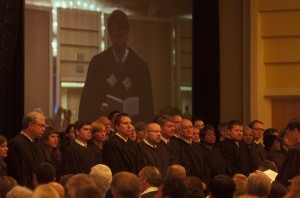 Today's post is written by Matt Nightingale, Director of Worship Ministries at Redeemer Covenant Church in Tulsa, OK.
This past Sunday, June 24, was a significant day for me and for several other members of the Better Together group on Facebook. Congratulations to Katie Martinez (Ordained to Word and Service); and to Brian Borin, Aune Mieke Carlson and Jordan Reed (Ordained to Word and Sacrament). I was commissioned, which is also a permanent ministerial credential, specifically to music ministry. For me, it's been a very long process. I started this journey eight years ago.
I have had many people ask me why I did it, what this means now and if it makes any real difference in my day-to-day life and ministry.
Here's what I wrote in my final commissioning paper regarding the "why" question: At Midwinter 2004, I connected with Katie Martinez and others from the Worship Center. That was the closest I've ever been to experiencing a classic "call" to ministry. I realized the value of submission to trusted elders and decided to pursue licensure and commissioning in the Covenant. 1 Timothy 4:12-16 was deeply meaningful to me as I realized the value of submitting my life and ministry to trusted leaders who could guide me and authenticate my call.
I am especially struck by 1 Timothy 4:15, which says "Be diligent in these matters; give yourself wholly to them, so that everyone may see your progress." I realized that, while it was awesome to be affirmed and called by a local church, it was important to me to be affirmed and called by a larger body, the larger community of faith in which I had found a home. I wanted to know others within the denomination and to be known by those same sisters and brothers.
What does this mean now? Well, honestly, nothing will change in the immediate future. I'm still the Director of Worship Ministries in my local church, and I'll still do the same things I've always done, hopefully growing and changing and improving all the while.
But something is different. I can't deny it. Something happened as the Church recognized us, laid hands on us, prayed for us and blessed us. We were "set apart" in a new and powerful way to do ministry in our churches and in our world. In some mysterious way, I believe we joined the great stream of those who've gone before us, the apostles and prophets and teachers and missionaries and elders and deacons who laid the foundations for the Church in which we now serve. Glory to God!
My questions today are for those of you who are consecrated, commissioned and/or ordained in your denomination. What does that mean to you? How has your life and ministry changed as a result of your credentialing? What's your story?