Today's post is written by Jo Anne Taylor, Director of Music and Worship at Bethlehem Covenant Church in Minneapolis, MN.
I love teaching children that the word "Hallelujah" means "Praise the Lord!" When they learn that the last syllable represents God's name, they begin to say "Hallelujah" with a sense of awe, and that final syllable takes on new meaning for them. Throughout the Bible, we are reminded that a name is more than just a label for someone. A name is a descriptive identity marker. Calling on God's Name means calling on God's complete identity, on the entirety of God's Three-Person fullness. God's name tells us who God is.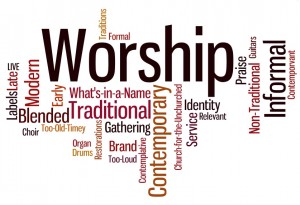 This week, the Better Together group bantered on the topic of naming a newly formed worship service (or worship gathering). We struggled to find exactly the right word to describe what people could expect when they walk in the door. Should the style of music be emphasized? How do you name worship that includes an eclectic mix of musical styles? One worship leader wrote, "I think labeling them will always fall short and even if it 'nails' it for a time, the label's shelf life will be short."  Another added that names might not be as important as content: "You don't need to reinvent the wheel…just concentrate on making a really good wheel."  And when the term "informal" came up, one person observed, "'informal' compared to what? It's about being NOT something, not being SOMETHING."
'Being something' is what Christ calls us to do, and that 'something' is Christ's church: making disciples, baptizing them in the name of the Father and the Son and the Holy Spirit, and teaching them to obey Christ's commands to love God and neighbor. As we fulfill that calling, the name we use to identify ourselves and our worship can tell the world who we are. What name describes your worship to the neighbors around you? How does that name identify your worship time in all its fullness? Many of us are eager to learn what you call your particular style(s) of worship, as we shape new worship opportunities for our congregations.  Care to share?