Today's post is written by Jo Anne Taylor, Director of Music and Worship at Bethlehem Covenant Church in Minneapolis, MN.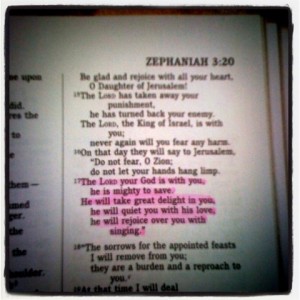 What is your theology of music? How do you express your faith through music as you worship God with your congregation, or as you spend time in personal devotion? How does God sing into your life through his Word, and through the music that weaves together our corporate worship experiences?
My theology of music comes from the beautiful five-part blessing in Zephaniah 3:17:
"The Lord your God is with you, he is mighty to save. He will take great delight in you, he will quiet you with his love, he will rejoice over you with singing."
He will rejoice over you with singing. I remember the first time I read these words and realized, "God sings!" In worship, we do a lot of singing to God and about God. But consider the idea of God singing. If we are made in his image, and we sing, then doesn't it make sense that our voices must be an echo of God's voice?
The whole idea of ruach – God's breath moving through our own lungs and vocal folds as an expression of his Spirit – shapes my theology of singing. Singing is putting pitch to breath. Singing is sound we make during the process of respiration. As we inspire breath to sustain a singing tone and expire that breath in a stream of sound, we conspire with others who sing alongside us. What transpires has the power to transform us, as we sing praise, prayers, scripture, and hymns that stay with us long after the song ends.
There are over 150 references to singing in the Bible. Only this verse has God doing the singing, and when God sings, he is rejoicing, loving, and protecting his people. That means you and me. Singing is a pleasant endeavor for God.
I tell my students that listening is paying attention to what you hear. It is a conscious decision to focus attention, and to filter out the sounds that do not belong to that focus. I think God is singing all the time, maybe even right now singing into your heart. The challenge is to truly listen, and to join in the song.
So, what is your theology of music? How does it shape your attitude toward worship?