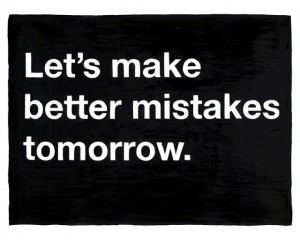 This Fall marks an anniversary; I've been involved full-time in leading worship for twenty-five years. During that period there has been a massive growth of activity, creativity and discussion and there's never been a 'dull' moment. Someone, somewhere is always coming up with (what they think is) a new idea, identifying a possible trend or investigating a new 'move' that may have been inspired by the Holy Spirit – or not.
Our Facebook group "Better Together" hosts a wealth of discussion, and the contributors – all involved somehow with worship ministry in the Covenant – seem to me to be a little better informed than many others. Of course, we're all capable of saying dumb things or making silly mistakes – and sometimes we share "what's the worst thing you ever did…" topics to everyone's amusement – and edification.
My "worst things?" Well, in one UK tent-meeting we had 240 volt power from the local authority for the Public Address system, and generator power for the musical equipment on stage… I discovered the difference one night as I stepped forward to sing (while playing guitar) and the voltage found its way through my lips to the microphone. I still bear the scars… and should probably sign this note "Hotlips".
I also remember the time when I joined a three-week Conference event after week one, where a friend had covered my guitar playing duties. He forgot to mention that one song had been arranged a semitone lower to make it sound better on the brass instruments involved… so when I came in, reading the original part, (at full volume in front of ten thousand people) it was really noticeable.
No, this is not just pointless reminiscence. While recommending 'Best Practice', I believe we can benefit from 'worst practice', too. We should encourage one another to learn from our mistakes and do better after failures. However, that means we have to give each other the freedom to fail.
Of course, we're not immune to the forces of perfectionism and consumerism that seem to be influencing the culture around us, and it's easy to get annoyed at people who don't satisfy our needs and provide the 'product' we want on Sunday morning. We might feel disturbed that something distracting or inappropriate has interrupted our relationship with God.
At such a time, it's good to remember the words of Paul in Romans 8, 38-39: "For I am convinced that neither death nor life, neither angels nor demons, neither the present nor the future, nor any powers, neither height nor depth, nor anything else in all creation, will be able to separate us from the love of God that is in Christ Jesus our Lord." It's too easy to add our own words "Except a song I don't know, or a poor worship leader". That, too, would be a mistake.
Let's give one another the grace, the freedom to fail – and learn from our mistakes. Your thoughts?