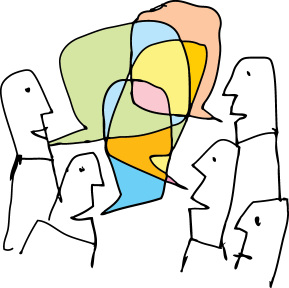 There's been a lot of good discussion this past week over in the
Better Together Facebook group
, from technology questions ("What type font do you use for projection – worship lyrics, sermon content, etc.?") to worship programming discussions ("What does everyone typically do song-wise for communion Sundays? We have communion once a month, and I'm looking for new ideas for contemporary songs as well as hymns.") to music recommendations ("not everyone will agree with me, but i think i just found the coolest worship record ever made and it's not even out yet. check it out… 
theroyalroyal.tumblr.com
"). We've talked about instruments ("Does anyone lead worship with a classical guitar instead of a steel string?") and aesthetics/theology ("Where do you normally put your drums? As I visited different churches last summer, I noticed that the drums and the cross seemed to switch places from church to church…"). And one member brought up the concept of Call and how we understand it ("I've always struggled with the idea of "call" in my life. How did you end up leading worship in whatever capacity?").
We welcomed several new members of the group (currently up to 132 members!) and talked about our worship plans for Sunday. We lamented the disproportionate amount of women worship leaders on Christian radio and recommended some of our favorite women worship leaders and artists (Brooke Fraser, Sandra McCracken, Christy Nockels, Kim Walker, Alison Krauss, Over the Rhine, Sara Groves and Audrey Assad, to name just a few).
I'm hoping that even those of you who are not part of the Facebook group will choose to interact here on the Worship Connect blog. How would you answer the following questions?
"What does everyone typically do song-wise for communion Sundays? We have communion once a month, and I'm looking for new ideas for contemporary songs as well as hymns."
"What do you find is the most effective and God honoring way to begin your worship services these days?"
And if you are a Covenanter who is involved in some way with planning or leading worship in your church or community, we invite you to join us on Facebook for great discussion and fellowship all throughout the week. Until next week, grace and peace to you in the name of Jesus…