Today I am going to share more pictures of the Mount of Olives and of Jerusalem, as they relate to what happened on Palm Sunday.
Readings for Monday of Holy Week:  Matthew 21:18-22:46, Mark 11:12-19, Luke 20:1-47, John 12:20-36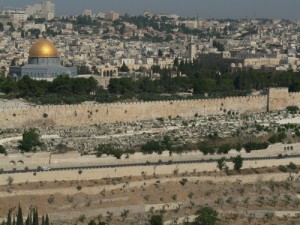 This is the view from the top of the Mount of Olives, looking west to Jerusalem.  The old city wall you see is not from the time of Jesus, but dates from 1538 and was built by Suleiman the Magnificent.  The building with the gold dome is the famous "Dome of the Rock" mosque, built on the site of the previous Jewish temples.  The closed up gate in the wall (on the right edge of the photo) is the Golden Gate, the one through which Jesus is said to have entered on Palm Sunday.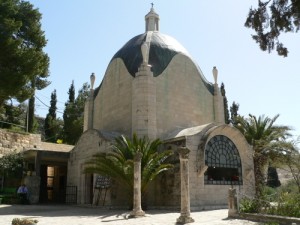 Dominus Flevit, the "Church Of the Tear," is half way down the steep western slope of the Mount of Olives.  It is a reminder that Jesus wept over Jerusalem as he was approaching the city on Palm Sunday (Luke 19:41-44).  This beautiful little chapel was completed in 1955.  It has incredible acoustics, and is a joy to sing in!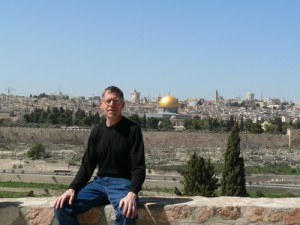 View of Jerusalem from Dominus Flevit, the Church Of the Tear.  Looking out across the Holy City from here and seeing sights so similar to what Jesus himself saw as he rode down the Mount of Olives, Scripture comes alive in a fresh, physical, tangible way.  This is a quiet, beautiful place to meditate and reflect on the deep meaning of the events of Holy Week.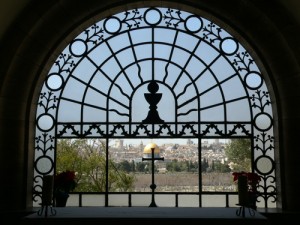 Window looking west, from inside Dominus Flevit, above the altar.  For this photo, I lined up the cross with the Dome of the Rock, as if to say "The cross of Christ is the focus for faith."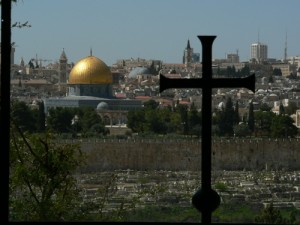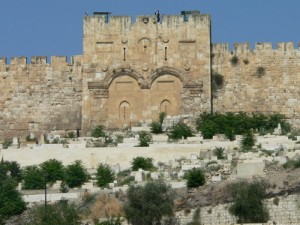 The Golden Gate – notice the Muslim cemetery in front of it.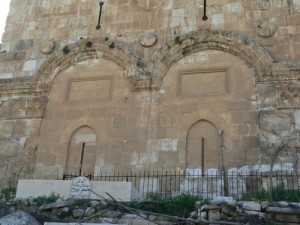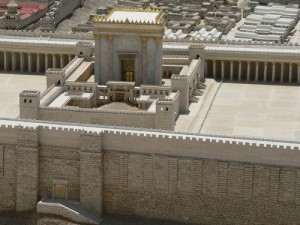 Model of the temple of Jerusalem from the time of Jesus.  This was where Jesus spent his time teaching and interacting with the chief priests and teachers of the law during the first part of the week after he arrived in Jerusalem.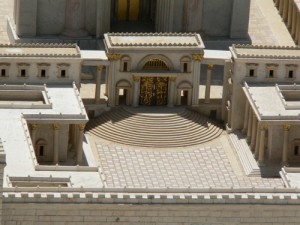 Close-up of the temple model
Prayer for Today:  Lord Jesus, you went to the temple on Monday to teach and pray, but found God's house in disarray.  As you cleansed the temple in Jerusalem long ago, cleanse us today, for we ourselves are God's temple too.  Overturn the things in our lives that we have allowed to clutter and displace our relationship with you.  Thank you for what you will continue to show and teach us this week.  We pray this in your Name, Amen.