Holy Week begins with Palm Sunday.  On this day, we remember when Jesus rode into Jerusalem on a donkey, with the crowds shouting:  "Hosanna to the Son of David!"  Hosanna is a Hebrew expression meaning "Save!"—and Jesus certainly is the Savior!  He is also from the line of David. The next sentence is a reference from Psalm 118:26:  "Blessed is He who comes in the name of the Lord!"

The Palm Sunday event began on the east side of the Mount of Olives, by Bethphage and Bethany.  The procession continued up to the top of the Mount and then down the western slope, across the Kidron Valley and into the city of Jerusalem itself.  Tradition says that Jesus entered through what is known as the Golden Gate.  Then he went to the temple area.
Readings for Palm Sunday:  Matthew 21:1-17, Mark 11:1-11, Luke 19:28-48, John 12:12-19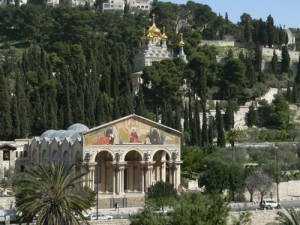 This is a photo of the Mount of Olives, taken from Jerusalem.  The large church in the foreground is the "Church of All Nations" in the Garden of Gethsemane.  The Palm Sunday walk that I enjoyed so much while I was on my sabbatical in Israel in 2006 began on the other side of the Mount.  Enjoy the pictures that follow; see if you can sense the excitement that I felt, following the same route that Jesus took 2000 years ago, in the midst of a throng of thousands of Christians from all around the world shouting and singing and dancing all the way, into the Holy City itself!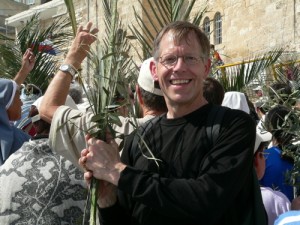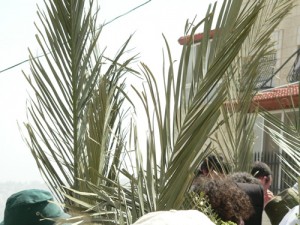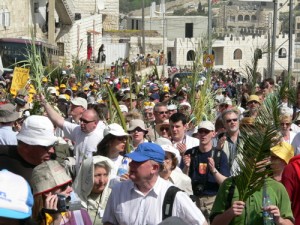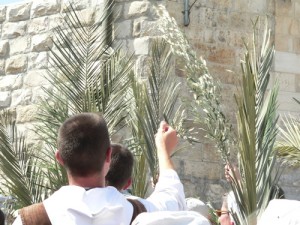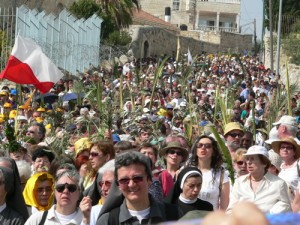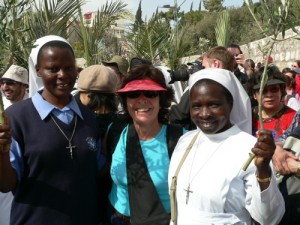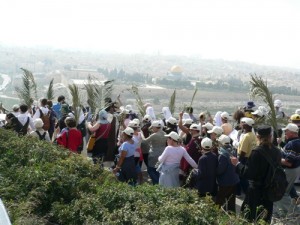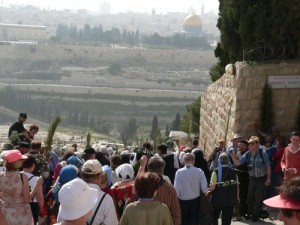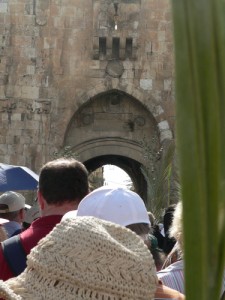 This is not the Golden Gate; it is the Lion's Gate (also known as St. Stephen's Gate).  This is the only gate in Jerusalem's eastern wall that is open today.  The Golden Gate was blocked up by the Arabs in 810, and a Muslim cemetery is in front of it.  Our Palm Sunday walk ended just inside this gate at the Church of St. Anne (mother of Mary).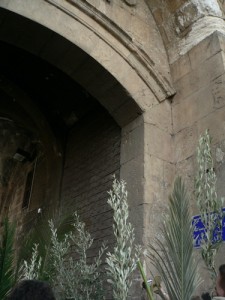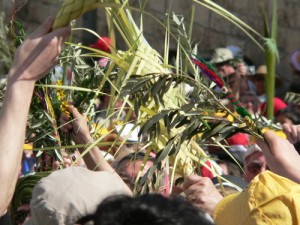 Prayer for Today:  Jesus, when you rode into Jerusalem the people waved palms with shouts of acclamation.  Grant that when the shouting dies we may still walk beside you, even to a cross.  Amen.  (from The Covenant Book of Worship)