(Photo above was taken at our special concert at the Isesaki Church on May 11th.)
Dear Prayer Partners,
We asked you to pray about many things last month. Here's a brief report:
Our denomination-wide retreat on May 2-4 was great. Andrea was able to participate and came home very encouraged.
About 60 folks attended the concert at the Isesaki Church on May 11th, many more than we had expected. The music and testimonies were very good so we continue to pray for God's work in many hearts.
Sam, Lilla, & Sky are winding down their school year at CAJ with projects, tests, etc. The big event is Lilla's graduation from middle school which will be celebrated tomorrow – Friday, June 1.
The Akagi Bible Camp is a big item on our plates as we begin preparing the buildings and grounds for the summer schedule. Our actual camping season looks to be pretty full between July 30 and September 10 with about 8 different groups so we are praying about our need for volunteer workers at each of the camps.
On May 18th Tim had a chance to visit the village of Kurabuchi in western Gunma along with Pastor Kogure. See some photos HERE.
Another photo from our May 11th concert at the Isesaki Church…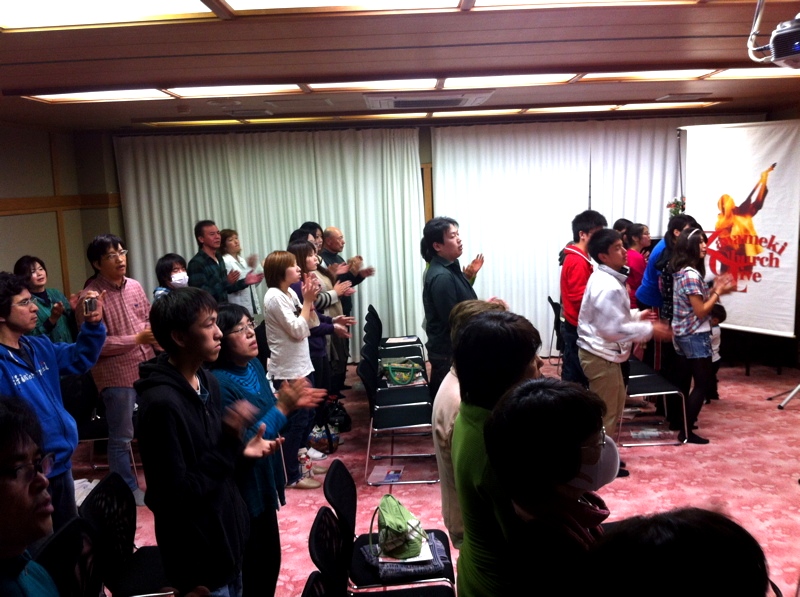 Will you pray with us about the following items during the month of June?
Akagi Bible Camp – this is probably Tim's main area for a few weeks as we nail down staff, volunteers (particularly kitchen workers) and make several trips up to Mt. Akagi from Tokyo to work on the grounds and buildings.
Andrea's teaching and study schedule – each Wednesday and Thursday is spent in Gunma teaching at the university, each Friday evening is spent at the Covenant Seminary in Tokyo auditing a course, and in between she is doing lots of reading and homework for her course on Spiritual Direction (year #2) at North Park Seminary in Chicago (scheduled for the 3rd week of July).
Tohoku Trip – from June 24 until July 7 a team of young people will be visiting Japan from the NewSong Covenant Church in the LA area. Jim Peterson and Tim will be accompanying them as they volunteer for relief and rebuilding work in northern Japan.
Sam, Lilla, and Sky – as they finish school on June 8th and head into a summer schedule. It's looking a bit complicated as we all head in different directions but we seek God's special guidance and protection.
 We are deeply humbled by your prayer support.
Your partners in prayer and mission,
Tim & Andrea Johnson
(Sam, Lilla & Sky)