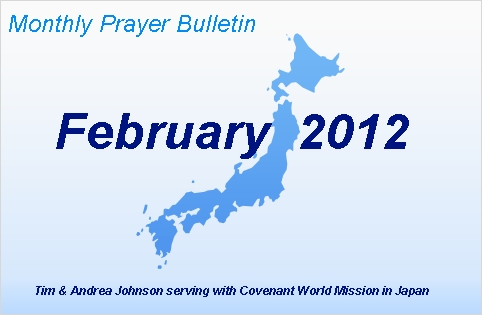 Dear Prayer Partners,
Greetings from cold (mostly) Japan. Record snows have been falling along the Japan seacoast side of the island. Our children were even off a day from school last week because of snow in the Tokyo area. This is a busy month – so please accept a short list from us including some upcoming events and items for special prayer:
NSKK Annual Meeting – "NSKK" is the acronym for our Japan Covenant denomination of churches. We'll be meeting together on Saturday, the 11th, for a day of business decisions and reporting. May we sense the special leading of God's spirit among us.
Asia Area Staff Retreat – from February 16-20 ECC missionaries from all of our Asian areas are gathering in Thailand for a few days of study, worship, fellowship and relaxation. This is the third time that we have held such an event. Thanks for praying about safe travels and smooth logistics. We always look forward to challenging and life-changing input as well.
Andrea's teaching – the school year for students at the Gunma Women's University is winding down in the next couple weeks. Andrea is busy with testing and final grades. She's also looking forward to a few weeks off. Classes won't be starting again until April 10th or so. Thanks for your special prayer for her.
Tohoku Relief Trips – Tim will actually be spending a few days in northern Tohoku this week with colleague Jim Peterson, a counseling team from the Wheaton Graduate School, and Dave Husby of Covenant World Relief. And it's a bit farther down the road but we're looking forward to welcoming a team that will be coming to Japan with Merge Ministries to help out in volunteering efforts from March 23 – 30. Thank you for your prayers as we plan for these trips and continue to understand how God would have us help in the many needy areas of northern Japan.
Well, there's much more to write… but it will have to wait. Next month we hope to share with you news about the Isesaki Church, our Daily Audio Bible podcast, and other family news.  Until then, thank you for praying. We are humbled by your support and encouragement.
Your partners in prayer and mission,
Tim & Andrea Johnson
(Sam, Lilla & Sky)