This information is from Covenant Newswire, originally posted on June 16, 2011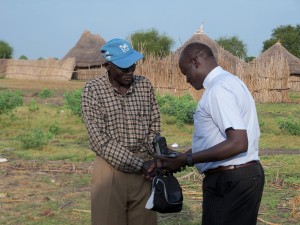 JUBA, SUDAN  – James Tang, an Evangelical Covenant Church missionary, has been asked to lead a conference of representatives from main faith and ethnic groups in South Sudan who are gathering to address rapidly escalating violence in their country.
The Nairobi Sudanese Unity of Churches (NSUC) has organized the gathering, which will take place several days before the birth of the Republic of South Sudan on July 9. Covenant World Relief is providing some funding.
Violence among ethnic groups has escalated as the historic date approaches. There already have been more than 1,500 deaths this year. Inflaming the violence have been inequalities in wealth, power, and access to water and grazing rights, according to a report by the London-based Minority Rights Group (MRG).
"There is this domination by Dinka and Nuer (ethnic groups)," Chris Chapman, MRG's head of conflict prevention, told an international news agency. "Resentment can build up very quickly and very easily . . . there is a lot of risk for instability in the future."
"If such violence escalates, southern Sudan will be born a failed state," an MRG report warns.
Organizers of the conference say they have a history of successfully promoting reconciliation among tribes. South Sudan has 56 ethnic groups and nearly 600 sub-groups. Members of all South Sudan church and ethnic groups have participated with the ecumenical organization.
The group says it is seeking to live out the beatitude, "Blessed are the peacemakers for they shall be called the sons of God."
South Sudan gained its independence from Sudan following a referendum on secession earlier this year. The vote came following decades of civil war between the north and south. The conflict claimed the lives of two million people and forced millions more to flee to refugee camps in Ethiopia and elsewhere.
The Evangelical Covenant Church of Sudan has some 20,000 members and was formed in Ethiopian refugee camps in 2000.