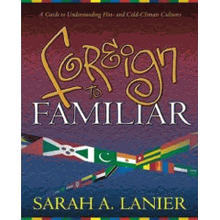 Author Sarah Lanier explains how cultures around the world can fit into two basic categories and how these categories differ. Whether you are a cross-cultural worker or simply live in a cross-cultural neighborhood, you'll find this book to be a valuable resource for understanding and relating to others from a different "climate".
Recommended by Karen Hallberg, Associate Director of Mission Mobilization and Connection.
Available from the Covenant Bookstore online for $6.74.