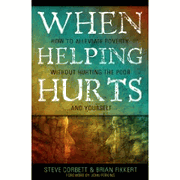 When Helping Hurts by Steve Corbett and Brian Fikkert is certainly worth a read. The subtitle – "How to alleviate poverty
without hurting the poor and yourself" – describes an important priority for the Evangelical Covenant Church as we engage in God's work around the world. We seek to "do no harm" as we share the love, hope and grace of Jesus Christ with people in need.
As Covenant World Mission dialogues with local churches about engagement in global ministries, we encourage leaders to read and discuss this book. Important pieces of the process include praying and thinking through implications of next steps in mission. There are exercises at the beginning and end of each chapter, which make the principles and concepts concrete and practical for the local church setting.
Through years of mission ministry training and experience, the authors share lessons learned and wisdom gained, drawing the reader into understanding poverty and what it looks like to make a lasting, Kingdom difference. Corbett and Fikkert have a challenging and mission-transforming message for local ministries.  As they state in the preface, "We want this book to be used by God to affect your heart, your mind, and your actions." So, make time to read it, wrestle with the content, and begin to imagine how God will work through your ministry to love others with the life-changing love of Jesus Christ.
Copies of When Helping Hurts can be ordered through the Covenant Bookstore here.
Do you have suggestions on books related to engaging in world mission that you would like to share? We would really like hear about them.