Like I mentioned in our December Newsletter, I always feel bittersweet about leaving the old year behind. I think back on all that was said, not said, done, and not done, seen, felt, heard, learned, etc….
It was a hard, magical year, 2017…a good hard and a hard hard and magic bits in between here and there.
We reached our 80% mark for being funded, Richard became a citizen of the USA, we traveled to many different states, we moved to a new country, we did Merge, we got involved in new ministries, we went Scandinavia and to Europe and met up with my whole family, I became a resident of Ecuador, our car broke, I got really sick, we fought, we forgave, we learned, we missed weddings and births, we got really busy, too busy…..
But even though it was a hard year, it was a year of life together with my husband, with my family, with my friends, with God….and I truly believe that each season is a gift a there are treasures to be found, lessons to be learned, life to be lived.
One of the things that I really want to change this year is how busy and scattered I feel. I know that with moving to a new country and culture, there will be a certain amount of scattered-ness and busyness that one will experience, and I know that with Merge, especially in the summer, it can get downright crazy….and life, everyones' life in general has moments, seasons, and days of busyness, but, but….I truly believe that there are enough hours, minutes, and seconds that make up moments, that we can use to refocus, breathe, pray, and rest. There are habits we can change, new ones we can start, and certain things we can say "no" to and others, "yes".
So this year, I'm starting off with that in mind, and thanks to Amanda Watters, I have somewhere to start.
Amanda Watters is the author of the blog, Homesong. A beautiful journal of life, rhythms, routines, meals, crafts, and deep, beautiful thoughts.
I am joining her on her "Homesong Rest Retreat". A retreat to "focus on being more intentional with our time, while devoting our energy to inner work that will help ground and center our spirits for the New Year ahead" -Amanda Watters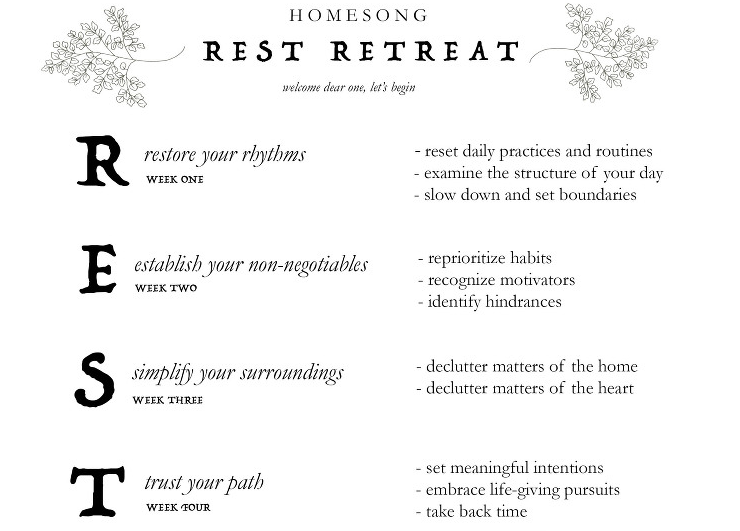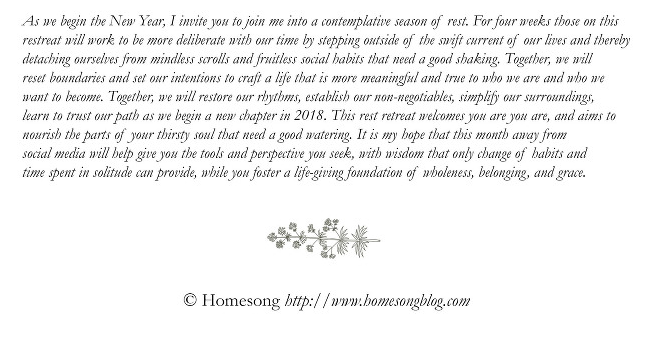 So if you'd like, you can join me as well!
Here is her first post with some starting information
And here is her latest post about preparations for the coming rest retreat.
Peace and joy in this new year!
Love,
E
Feliz Año Nuevo!!!!
For me, it's always the dreaded blog post, the dreaded Facebook post, the dreaded Instagram post, the dreaded whatever-type-of-social media-post, that being, and decidedly titled,
"Summarizing 365 days of my life in two (maybe three) short sentences (or paragraphs if I'm feeling nostalgic)"
I've always had a hard time encapsulating a year as we move into the next one.
I've always had a hard time summarizing 365 days of living, experiencing, breathing, eating, laughing, crying, yelling, singing, whispering, dreaming, feeling, listening, hearing, learning, unlearning, failing, triumphing, growing, stretching, opening, closing, creating, taking, breaking, and all that is this….life. Living.
I can't summarize it. I can't encapsulate it, properly, that is.
Or maybe, I just don't want to.
Maybe it's my reluctance to let go of the year and all that has happened (the joys and sorrows) and embrace a new year and all that will happen. Maybe it's growing a year older, now three years married, now 29, now not anymore in Minnesota, in the United States….change can be really hard for me.
But, like I mentioned in my previous post, I am learning to intentionally enter into and be apart of the changes and different seasons of life. And part of that process is, I think, not forgetting the past seasons, but learning and growing from them, carrying certain "experiences" over to the next season (or year) or choosing to leave them behind. And to do that, we must remember, we must reminisce, we must go into the hard places, the glory places, the sacred and holy places of life.
I think it's okay to ask, "why's". And I think it's okay to grieve that which is no more, that which will not enter into the new year or new season with us, even if we so badly want it to. Yet we can't stop there, we can't lose hope. We also need to enter the spaces of the past year that were holy and hard and remember….and recall, His faithfulness, His peace, His active love and sweet and gentle grace.
I suppose it's a healing thing to do, that's what people tell me at least, and I am finding that to be true.
So, I won't let the new year, and all that has happened in the year we are leaving, hinder me from doing the hard work of being present, nor will I let it slip out of memory without recalling and remembering, without purposefully holding on and letting go. Nor will I let the year go without being grateful and giving thanks for another year, no matter how hard, how good, how lost, how grounding it was….I will choose to give thanks and I will choose joy and hope for the things to come.
So there, I did it. I wrote a "Farewell 2015, Hola 2016" post.
The end.
Love,
The Santanas
p.s. watch out, I did my summarizing in pictures…..