by Heather Chapman, co-founder of UNIDOS, San Juan Capistrano, CA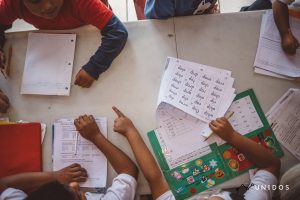 California's 39% Latino population is rising, and in the Capistrano Villas it is about 95%. Yet in many ways, this community lives trapped behind a one-way glass. Many in this community serve in kitchens, in janitorial services and in landscaping, living largely unnoticed by the dominant culture. LMDJ Ministry Development partner, UNIDOS, was established in Capistrano Villas. Founded on God's heart for unity, UNIDOS recognizes that seeing one another with God's eyes is the key to learning to love our neighbors.
In its first year of ministry, UNIDOS provided homework help for elementary-kids, worked with parents and community members to put on a week-long arts camp, made gifts affordable through a Christmas Store, and built relationships of trust with existing resident leaders who believe with UNIDOS that God cares about holistic community development.
UNIDOS started the Homework in the Garage program based on feedback from community members. Although other homework help existed, it left out the kids who had to come home on the bus. Most kids in this neighborhood don't have an English-speaking adult at home, so doing homework is difficult, aside from the fact that many kids are home alone in the afternoon.
Some of the first students in the program were brought by their older sister, Maggie, who was in her last year of high school. Maggie started getting to know UNIDOS and staying to help out when she could. In the summer, she offered to be a chaperone for weekly field trips to the beach. Though she had started working, she requested Thursdays off so that she could help. When Maggie saw a UNIDOS social media post about a financial need for boogie-boards, snacks and matching sun-shirts, she started planning how the parents could raise the money and brought snacks to share on beach days.
A few months later, Maggie shared her discouragement related to college with her friends at UNIDOS. As much as she dreamed of being a nurse, she was working a minimum-wage job and hadn't started classes at the community college. There seemed to be so many obstacles. No one in her family had ever gone to college. Her parents, though supportive, didn't speak English or get any days off work to accompany her to get enrolled. Because Maggie is a DACA recipient, she had a different, more extensive process to go through to apply for financial aid. The final straw was a careless comment from a college employee who, probably thinking that her procrastination needed some tough love, chastised her for waiting so long. Defeated and discouraged, Maggie gave up. "Maybe next year," she thought.
UNIDOS was able to connect Maggie with Melissa, a UNIDOS volunteers. Melissa hugged Maggie, encouraged her to dream, walked with her through the registration process and gave her a congratulatory gift on starting college just a couple months later.
The Homework in the Garage program provided an entry point to create this new friendship. When two unlikely friends intersect, there is transformation on both sides. Melissa's eyes were opened and her capacity for compassion expanded. Maggie was empowered to walk toward a better future. Both of them experienced Jesus' heart that cares about all aspects of his kids' lives.
Learn more about the ministry of UNIDOS in San Juan Capistrano, CA.