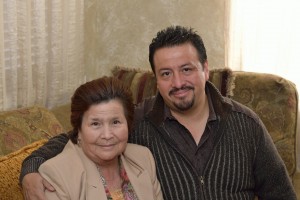 By Rev. Danny Martinez, Covenant Minister, President of MHIPE
I was born in Guatemala, Central America. I had always thought that I was an American until I emigrated to the USA. My father left my mother when we were very young and she was left to manage our store in Guatemala that, due to many of my father's debts, went under quickly. My mother is a very hard working woman who decided to cross the border to the land of opportunity. The land that flowed with milk and honey. She left her two kids behind with her sister, so she could work and return to Guatemala with some money. She went to Los Angeles and tried to save as much as she could. She was miserable without her kids and was counting the days until she could return home. This is my story. A story of migration from Latin America to the USA. Why did we choose to come? Because we were starving. A mother's love was the strong force behind moving her two young boys to the USA.
When my mother returned to Guatemala, she quickly realized that she would not be able to resurrect her defunct store. The Civil War going on between the army and the guerrillas had made us targets for abuse and theft. She made the hard decision to bring her two boys to the US where, at least, they would have an opportunity to study in a relatively safe place. We moved to Chicago. We suffered while getting situated and getting an apartment with my mother's low income as a live-in babysitter. I had to start work very young due to the need of providing for the family.
Chicago became home and we learned the language. I was 13 years old and my brother was 8. We went to school, graduated high school and went on to work to pay bills. My mother's biggest concern was that we would become documented immigrants and in 1986, President Ronald Reagan passed a resolution for amnesty for immigrants who had been good members of society, had been in the country at least 5 years and had no criminal records.
Many people were taken advantage of by non-reputable companies claiming to help immigrants while charging them insane amounts of money to help them fill out the applications and translating their documents, such as birth certificates, etc. We were told that our applications would cost $12,000 for the three of us. We did not have that kind of money, so I filled out all the paperwork myself and translated the documents and had them notarized. We paid a fine, submitted ourselves to an extensive background check and in a few short months, we had an interview to find out if we would be able to stay. People were afraid because they thought it was a trap to return people to their countries. We had faith. We believed.
Why would I tell you this intimate, sensitive part of my family's history? Because it is just the beginning of what is like to be an immigrant living in the USA. As you can imagine, I am biased. I love this country with all my heart and I love my people, mainly from Latin America, especially Guatemalans. One of the reasons I became a pastor was to help people find Jesus, get closer to him and to have a deeper relationship with God. In the middle of this goal, there are many barriers for immigrants. Immigrants are afraid, misunderstood, vilified, marginalized and made outcasts. I remember being afraid walking home from school before I became a resident; afraid that the police would ask me if I had the proper documents. I had no access to federal aid or scholarships to continue my education, so I went to work and work I did for about 14 years before I returned to study ministerial theology at North Park Seminary through CHET.
Many people do not know someone with a story like mine. I am convinced that the more people we know, the more we know a different side of the grace of God. If you don't know an immigrant's story, you may not be sympathetic to just immigration reform. We choose to see the dangers that "illegals" bring to our lives rather than the benefits. I don't call them illegals; I call them brothers and sisters that attend a Covenant Church, people that love God and their families, people that love this country but have no voice, nor representation. People that pay FICA and taxes without receiving the benefits that you and I share.
Migration has been around for a while. We are a country founded by immigrants. We are a nation that was built and constructed by immigrants. Latinos lived in some of our southern states like California, Arizona, New Mexico, Texas and Florida. Before the establishment of our country, they never crossed a border. The border crossed them.
What is my hope for those that are living in the shadows? My dream is that many of the 15 million Latinos and Latinas living in the USA would have the opportunity to become legalized residents. People that have proved to be a good standing members of society, who have paid their taxes, who have children that are born here, who love this country.
This is the greatest commandment: to love God with all our heart, soul, mind and strength, and to love our neighbor as ourselves. We might ask the Lord: Who is my neighbor? He may answer, those who you do not think are worthy of being your neighbor, such as the Samaritan hero of the Biblical narrative.
The question of legality is always present. "They did not enter the country legally and therefore they are criminals", some say. "This is a misdemeanor such as obscenity or resisting arrest." The hard part for Christians is being faithful to the law while remembering the spirit of the law or the intention in which it was created. We are a country that values life, values family and is convinced that God blesses us for the good we do in the world. My prayer for us is that we may get to enter into a relationship with some of those people we may not care for. People that have an accent, that may seem odd or weird, people that worship differently. May we truly hear the stories of people walking toward Jesus in a country that doesn't necessarily want them. That is my prayer.