Sometimes systems can work very quickly and efficiently.  This past Sunday, April 19, I learned that the modem for the satellite internet system at Karawa had some physical problems.  It appears that somehow it hit the concrete floor.  It is not supposed to have those cracks.  They have made it extremely difficult to disconnect the coax cable.  Thankfully it is still working.

 I received the above pictures Monday and confirmed that we needed to order a new modem.  As our satellite provider is in Belgium that meant I had to order and get it shipped from Belgium.  Monday I placed the order and requested a wire of funds from Serve Globally to our provider, GlobalTT.  Tuesday GlobalTT started to prepared the modem as it has to be set up specifically for the Karawa location. The wire arrived Wednesday AM, the purchase was completed and the modem was shipped out FedEx Wednesday late afternoon.  It arrived here this morning, Friday.  WOW!  We will take it with us to Congo when we leave June 2.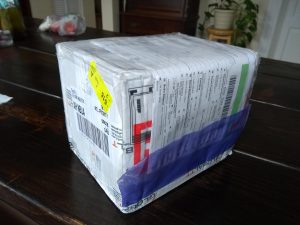 I really mean WOW.  Everyone had to do their part and everything had to work just right and it did.  Thanks to Gretchen at Serve Globally, the finance staff who did the wire and Mme Defosset and her team at GlobalTT for making this happen quickly. Praise the Lord!  Sometimes these orders do work out just as we hoped.