Friday was Papa Duale's funeral in Gemena at the Bokonzo Church.  Keith Gustafson sent this description of the day and the commemorations.
Even before the Friday funeral he was honored in Kinshasa on Wednesday afternoon and evening. People were at the Yahuma Church (KasaVubu) all night long until we left for the airport at 4:30 AM. The body was in the cargo hold of the plane. Rev and Mrs Duale Langba, Rev and Mrs Theodore Danu, Dr Thontwa, Kinshasa superintendent Rev Baramoto, and I were on the plane for the funeral. Dr Duale was not able to stay long enough to come to Gemena, but he was in Kinshasa for 6 days with family there. Upon arrival in Gemena, many CEUM and CECU people were waiting. Government dignitaries were also there. A long line of trucks and motorcycles went first to the morgue at the Gemena General Hospital to make sure that the body was all right. Then we went to Bokonzo and immediately to a service of mourning and of celebrating God's work through the life of Papa Duale and his family. There was an all night worship from Thursday until Friday. I needed rest, so didn't go to the all night times, but many people did attend.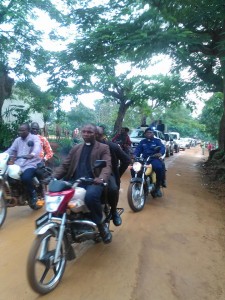 The funeral started at 10 AM and ended at 3:30 PM after the burial.
Before the service began, all of the pastors attending gathered in front of the denominational offices for prayer. Papa Luyada led in prayer, but before he did, we all sang the last verse of hymn 168, a translation of Nearer My God to Thee:
Nsima na yonso nse, wana liwa. (After all else here below, there is death.)
Yo okokamba ngai kuna mboka yo. (You will lead me to your village.)
Boye ekufi ngai, nabelema na yo,    (When I die, I will draw near to you,)
Nabelema na yo, Nzambe na ngai.  (I will draw near to you my God.)
I (Keith) get tears just thinking about singing that one verse with all the pastors and later in the service. It's faith we hold on to, and truth that brings comfort.
The procession into the full sanctuary was with all of the pastors. Dr Sanguma prayed the opening prayer. We sang two hymns: 248 Mboka ezali likolo na Nzambe and 256 Ekanganeli na Yesu. Rev Bonganga Mapula, the leader of the Reform movement that is in process of reconciling with the CEUM, led these songs. Papa Duale had planned to be a part of that reconciliation, and prayed much for it during his illness. There were 3 choirs. Then a witness to Papa Duale's life from Rev Luyada, a government official, Dr Kosse from the CECU Church, and me.
Luyada's sharing was very moving – I didn't take notes at the beginning – just listened. He said that Papa Duale's driving theology was grace. He brought people together, especially in times of conflict. He grew up among missionaries and worked with them his whole life. He began the missionary outreach of the CEUM. When you came to visit him, he always stood up to welcome you with joy. In January 1990, Luyada was chosen to be Vice President with Duale as President. Luyada said, "I always called him Papa." Duale gave him responsibility when Duale went to Kinshasa for extended meetings with leaders from around the nation. When Luyada was elected to be president of the CEUM in 1992, Duale graciously led them both through the handing over of responsibilities. When all that was done, Luyada said "he took both of my hands in his hands and prayed for me." Luyada said that he was a father, peaceful and mature in confronting problems. He was a unique man in the history of the CEUM.
"We have lost an historian." Luyada said, "Without a doubt, we members of the CEUM gave you problems. Forgive us for those. Give greetings to Papa Babete and Papa Doko and all of our other friends already in heaven."
The political leader said that Papa Duale was not just a pastor and church leader. He was also one of the important people in Gemena, someone to consult with and to provide counsel. "When we would send him word of a meeting, even if he did not have money to pay for a motorcycle, he would walk 5 kilometers to come to the meeting." He was respected. He will be missed.
Dr Kosse shared that in 1968, a student was expelled from one of the IPOK schools because he didn't return from a vacation until he was 4 days late. Oldberg was the principal, and he expelled the student based on the school rules. All of the students went on strike because they felt this was unjust. The school council met. Papa Duale was in that council. He talked to all of the students and gave advice. He urged them not to follow mass group thinking, but to follow what was right. Dr Kosse remembered that talk. In 1983-84 at the Goyongo pastors' school, there were problems even there. From the students' perspective, one of the teachers spoke harshly. The students went on strike. The next day, MAF brought up some Church and mission leaders. Papa Duale was among them.  HIs words brought joy and the problem ended. He also remembered a time when another denomination was in conflict. Pastors from Gemena were called to help. His words helped bring peace to the denomination.Dr Kosse said that we are all human. We all can use language that is harsh.
That includes Papa Duale. But his heart was one that longed for fellowship and unity. When conflict arises today, let us bring that same spirit to that place of disagreement.
I (Keith) shared that all of you had expressed thankfulness for Papa Duale and his family. I read a letter from Gary Walter, Al Tizon and Josef Rasheed that I'll attach. The original in English was a large file that looked nicer that what I am sending you. I translated it into Lingala. But I also read some of what you wrote to me. I have given all of your notes to the family. Curt, your words at the beginning meant much to their family.
3 more choirs sang. First was all of the pastors' wives there. They sat together on the right side of the sanctuary, right behind the Duale family. They all stood and sang one of Papa Duale's favorite songs, number 160 Yesu Ndeko na Bolingo. It's a translation of What a Friend we have in Jesus, but I like the Lingala words better. "Jesus, our loving brother, you love me very much. You died for me and you show me the path ahead. I believe in you Lord Jesus. Alleluia to Jesus. I love you Lord Jesus. Alleluia to Jesus. Jesus, you are very good. You gave me life.
That life will be forever, live that will not end. In times of pain or death you will not leave me. You shed your blood so that I would have life. Even when people refuse you and prefer to follow satan, you still love all people. You will not refuse anyone." Mama Duale remained sitting with all the women behind her, and Mrs Langba and Mrs Danu on each side. Mama Duale sang loudly and strongly with all the women. The women touched her shoulders and arms as they sang.
The second choir was all of the pastors. They sang hymn 240 Na ntongo topanza (Bringing in the sheaves), another of Papa Duale's favorite songs. During this song, Mama Duale wept openly. "In the morning we go out to plant the seeds with joy. In the afternoon we have courage until we can harvest the good fruit. In heaven we will truly give to Jesus:
The fruit of peace. The fruit of righteousness. That's what we want to harvest for our salvation. The fruit of peace! The fruit of righteousness! Until the end, we will serve Jesus. When it is light and when it is dark we will always do much work, so that the Kingdom of God will come here below. Glory and light, Love and peace. Even during times when we are fooled by others, or when there is much pain, your people do what is good along with their Savior. They will go out with courage to plant the seed well, until they reach heaven to give Jesus the harvested fruit. The fruit of peace. The fruit of righteousness. That's what we want to harvest for our salvation. The fruit of peace! The fruit of righteousness! Until the end, we will serve Jesus."
Scripture was read from Psalm 90:1-2 and Genesis 50: 1-2, 4-10. We prayed for the preacher. We sang Hymn 168, all the verses this time – Nabelema na Yo (Nearer My God to Thee).

Rev Gwana preached. He led that Protestant union of churches in the Equateur province for many years, and is a retired CECU pastor. He called us to decide today to live our lives so that we will be remembered with thanksgiving when we live and when we die. I prayed after the sermon.
There was an offering. Prayer. Then a formal speech prepared by President Mboka. He had bad laryngitis, so Rev Baramoto read the speech for him. It was a review of Papa Duale's life and work. During that time, he said that the Duale's have 60 grandchildren and 24 great grandchildren. Rev Duale Langba also shared a biography of his father.
Dr Kosse prayed for their family. Several government authorities spoke again. After the benediction, we all went behind the church to the small cemetery where other CEUM leaders are buried.
The grave was large, lined with tiled cement. The white casket was carried to the grave and lowered into it.  We sang hymn 257 Ngai Natamboli na Mawa (When the Saints Go Marching In). Rev Mawe read the biography again. Rev Luyada did a short devotional. The government gave a few words of honor. Dirt was ceremonially put into the grave by pastors and government people. There was a closing prayer.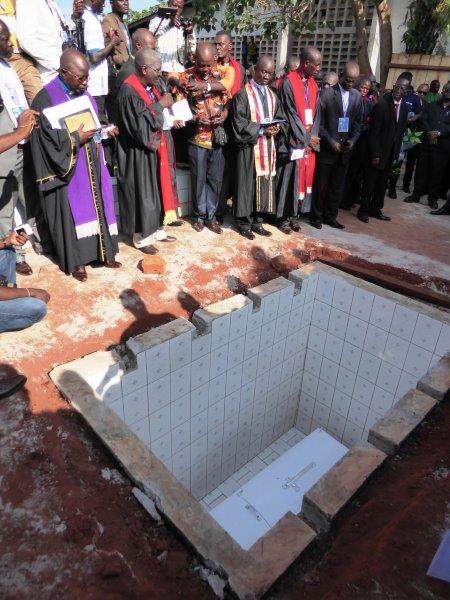 It was a moving day and week. I am thankful to have been here, and wish many of you could have joined me. The family and the CEUM thank you for your work, your prayers, and for being together with them God's People and Family.
There will be more times of worship tonight and Saturday. Sunday afternoon at 3, there will be a closing worship and a traditional "lifting of the time of mourning". One announcement acknowledged that mourning doesn't end then, but that is "how we do it."
Pray especially for Mama Duale. They were married 64 years. Pastor Duale Langba and Pastor Danu both said that the family is concerned for her.
Papa Duale has done much these past years to care for her in the routines of life. She has children, grandchildren, and great grandchildren nearby. But his death will be big hole in her life.
God bless each of you. Aren't we all thankful that we are a part of God's people?
Keith
The casket, embalming and air transport of Papa Duale's body from Kinshasa to Gemena were paid for by the new governor of the Sud Ubangi Province, Jose Makila. Covenant's Serve Globally also sent significant help. Many others have contributed privately.