Work was completed this week on 3 new blackboards at Lycee Vanette.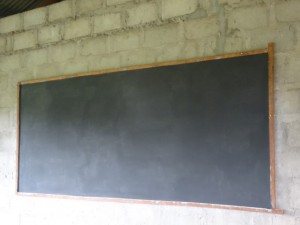 To make the blackboards the mason Ndekote first nailed lathes on the wall to make the border.
Then he did a smooth plaster on the wall to actually "make" the blackboard.
And then Cindy came and painted them.  The paint is a specific blackboard paint that we
Ndekote actually completed the plaster for a 4th blackboard, but it will not be completed until we can get more paint which unfortunately comes from Cameroon.  Unfortunately we haven't found anything like this in Kinshasa.