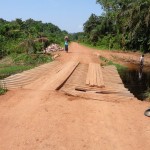 Clearly this bridge needs to be repaired.  It is halfway between Gemena and Karawa, just past the village of Bogbaguma.  This link is more important than the I94 bridge across the Mississippi that collapsed a few years ago in Minneapolis because if this bridge would collapse there is currently no other way to drive between the two cities.
Thanks to Paul Carlson Partnership and the CEUM for their initiative and commitment to key links in the local infrastructure when the local government isn't doing anything.  Through them Kade Zongalinga received a contract to replace the bridge.
The first step was to accumulate the materials.  Next was to build a detour so that trucks can get around while the main bridge is being replaced.  After taking out the old bridge Kade and his team put in these woven wire gabions.  They are coated in PVC plastic and salt water resistant for over 20 years.  The gabions are 1 meter cubes which are filled with rocks making for a practically immovable foundation.  The base is 4 gabions or just over 12 ft wide.  They look to be about 1.4 meters high.
On top of the gabions Kade will lay large timbers.  Those for this bridge are 10 meters (33 feet) long X 60 cm (24 inches) X 60 cm.  Those are HEAVY timbers.  With these timbers attached to each other nothing else is needed across the surface.  Kade will get the timbers across like he did on this bridge 3 years ago.
Unfortunately not everyone made it across the detour.  We encountered this when we returned to Gemena yesterday.  It appears that the truck was not properly lined up to get on the detour, then crosspieces could not hold it's weight, maybe it was going too fast too, and it rolled over.
Read more about PCP's work on the infrastructure here.  Building Bridges