"Care for your colleagues" said Rev. Gwana in his sermon at the installation service for four heads of CEUM departments and services.  This past Sunday the new department heads for women ministries, Biblical and theological education and men's ministries plus the Chief of Staff and leaders for these services and ministries:
women's savings groups, evangelism of women, widows and orphans, development of women and families, the World Vision liaison or focus person, an inspector for primary schools and the IPOK development center.  Over 1,100 attended the celebration of the ministries of the church installation of new ministry leaders.  Many in the combined women's choir had new dresses for the occasion as they sang a song composed just for this day.
In his challenge to care for your colleagues, Rev. Gwana specified the following:
Know every member of your team
If your colleagues are going through hard times, try to help them through their difficulties
Collaborate with others in the work. Go with them to see the work are doing and congratulate them on what is done well.
Accept the errors or weaknesses of your colleagues
If your colleague succeeds, celebrate with them and encourage them to go further.
Listen to the issues they face in their work
Work to build an ambiance of joy in the ministry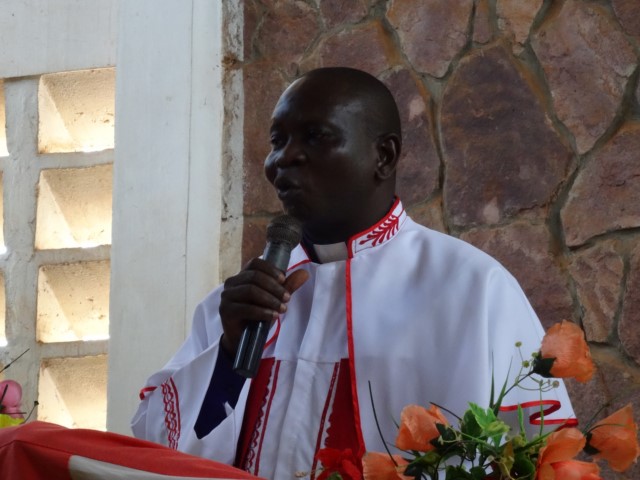 During the actual installation CEUM President Jules Mboka charged the leaders that "God calls people with the help of his Holy Spirit to use the gifts God has given them for the various ministries.  Go forward and use the gifts God has given you."
An inspirational story accompanied these two basins of manioc leaves (pondu).  They are the first harvest of the field one of the local women's savings groups has started using some of their savings.  Special.
And, people are always looking to profit from any electricity and charge cell phones and cameras.