"Only 30 girls are attending primary school and 10 girls are attending secondary school out of over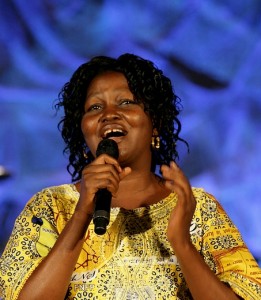 2,000 girls in the Libala church region", shared Rev. Corine Kikwiti.  "My heart was so sad when I heard these statistics.  I asked the president of women ministries in this region why so few girls are attending school.  She said girls are usually only valued for getting married and having children.  Some girls are working to earn a little money."
Rev. Corine Kikwiti is president of Women Ministries for the CEUM.  She and Cindy were invited by ECC Great Lakes Conference Women Ministries to attend Triennial women's conference in San Diego.  "I am touched in my heart by the love demonstrated by women for the girls in DR Congo", remarked Corine.  "My joy overflowed as I walked in the Fun Run with hundreds of women wanting to make a difference in the lives of girls attending Lycee Vanette girls school."  Corine and Cindy also enjoyed meeting people in the Congo Pavillion.  This was modeled after a typical village in DR Congo.  It gave women a feel for what life is really like there.  Corine fit into the village life as she played a drum on two evenings. women ministries in this region why so few girls are attending school.  She said girls are usually only valued for getting married and having children.  Some girls are working to earn a little money."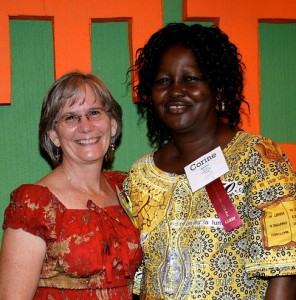 Following Triennial Rev. Kikwiti and Cindy traveled and shared with women and church groups in Michigan, Ohio and Pennsylvania and family camp at Mission Meadows Bible Camp in New York.  "CEUM Women Ministries is focusing on encouraging girls and women education, women literacy classes and small projects for women, especially widows", Corine shared.  "Covenant Kids Congo powered by World Vision is also having a big impact on children in Gemena, which is where I live.  They are building schools and helping to provide clean water for the children to drink."  They drove over 1,500 miles in their rental car with many good conversations and laughter along the roads.
They were inspired by several churches in the Detroit area who are reaching out to feed the hungry, heal the sick and get involved addressing the needs in their communities.  In Oregon, Ohio they participated in fixing lunches for hungry people in Toledo.  "We have great poverty in DR Congo, but it is very hard for me to see so many hungry and homeless people and try to understand why this is taking place in the United States", exclaimed Corine.
Corine returned safely to Gemena two weeks ago.  Thank you for your prayers during her and Cindy's travels in the US and now as she ministers to the women and girls in DR Congo.