By CKC Project Manager Cat Knarr

Spring has begun, and it's time to lace up your running shoes! The Global 6K for Water is coming on Saturday, May 19th.
On that day, you can walk or run 6K for clean water in Congo! When you register for $50, you're covering the cost to provide clean water to one person in DR Congo. But before then, we also invite you to join us in prayer. Download the CKC Six Weeks to 6K Prayer Guide PDF and pray for our sisters and brothers in Congo.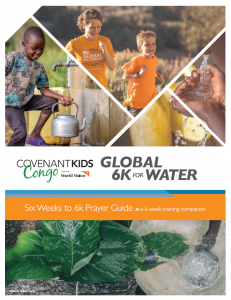 We can't say that this will be an easy spiritual journey. But it will be worth it. Read the Prayer Guide to learn more about life in Congo and how you can come alongside our Congolese friends and leaders who are transforming their community. Then listen for God's voice wherever you may be – at work, at school, out for a walk, or running with a group – and lean in where you feel his call.
How to Use the CKC 6K Prayer Guide
1. Sign up for the Global 6K for Water.
Does your church want to host the walk in your neighborhood? Register as a host site at TeamWorldVision.org/ckc6k.
Signing up as an individual? Register with your church's team on their team page, or register on your own at TeamWorldVision.org/ckc6k.
2. Pray for six weeks.
Join us in praying for our brothers and sisters in Congo for the six weeks before the 6K, from April 8th to May 19th. On a different schedule? That's okay too! Feel free to use the CKC 6K Prayer Guide for six weeks before, during, or after your 6K.
Each week includes two reflections to read, along with a prayer, Scripture verse, action step, and group discussion question. Read the Prayer Guide here (PDF).
No training is required for this race – you can show up on May 19th and walk your 6K! But if you'd like to train, you can find a Team World Vision training plan inside, and the Prayer Guide is designed to fit right into this plan. You can read a reflection on your rest days, pray the weekly prayer on your walks and jogs, and use the group discussion question to talk with your family, team, or small group.
Meet the Contributors
Twelve different writers contributed to bring you this Prayer Guide! Among them are leaders from the Covenant Church of Congo (CEUM), World Vision DRC, and ECC churches.
Download the Prayer Guide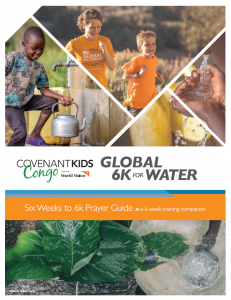 Download the Prayer Guide here (PDF).
Thank you so much for walking in prayer and solidarity with our friends in Congo! Merci mingi.
Share the Prayer Guide with others who are walking the 6K or supporting Covenant Kids Congo! Direct them to this blog post or to the CKC 6K Resources page at CovChurch.org/6k.