Happy New Year Covenant Youth Workers!
I hope this post finds you enjoying the fresh start of a new year and excited about
God's work in you and your ministry in 2015!  I am honored to be a part of this
journey with you, and I am very excited for the times we will be together this year.
I cannot wait for Youth Worker Connection happening in Denver at the end of
January!  I want to personally invite YOU to join us for this fantastic opportunity!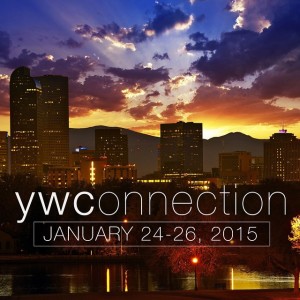 Our theme this year revolves around "Reimagining Youth Ministry."  It is truly our
goal to give you an experience where you will be refreshed, encouraged, and equipped with some new
ideas that you can plug into your specific ministry context.  All registration info
can be found at CovChurch.org/connection.
In addition to other wonderful presenters and breakout session leaders, we are
blessed to have as our keynote speaker, April Diaz.  April is the author of
"Redefining The Role Of The Youth Worker"  and is a former Covenant Pastor.  She
recently accepted a position with the Youth Cartel and has her hand on the pulse of
youth ministry in North America.  My hope is that you will come to YWC this year,
energize your own youth ministry, and join us in the conversation about where we
think God is taking youth ministry in the future.
Keep an eye on our social media accounts this coming week as we announce other
speakers and options for YWC 2015.  Also, being in Denver gives us a great
opportunity to enjoy some time in the mountains skiing!  If you and your crew are
interested in skiing, we have secured a special rate and transportation. All
information can be found at CovChurch.org/connection.
Today please be encouraged and know that you are loved, you are valued, and you
are making a difference.  In this new year of 2015, I am thankful for you!
Tim Ciccone
Covenant Youth Ministry Leader
tim.ciccone@covchurch.org