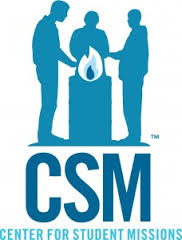 CSM blends a passion for the inner-city with a heart for the youth and families who come to serve. It's mission and service at its best." – 
Dann Spader, President of Sonlife Ministries

The Center for Student Missions (CSM) is a short-term, urban mission organization located in ten urban centers throughout the United States. With full-time staff at each site, CSM provides service and learning opportunities throughout the entire year.
By partnering with local ministries and service organizations, CSM teams become a part of the work that is already happening for the restoration in the city. Groups will be serving and learning from local leaders who are committed to working on behalf of the people of the city long–term.
If you are looking for an opportunity to serve in the summer, fall, winter or spring, please visit www.csm.org or email: registration@csm.org to learn more!