On October 4
th
, a group of High School students participated in a wonderful leadership experience known as Emerge!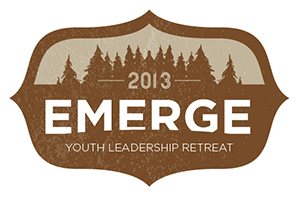 Emerge is a High school leadership initiative developed by the Covenant for high school students and hosted by the Pacific Southwest Conference!
The Emerge leadership retreat is a weekend of experiential, engaging high school student leadership development. It combines practical teaching with hands-on learning experiences as well as individual reflection, peer-to-peer feedback and group worship.
This Friday through Sunday retreat is designed for youth ministries to bring their high school student leaders together to dream and strategize for the school year. The Emerge retreat team, alongside youth pastors, guides students through a process of leadership discovery. During the weekend, every student explores how God has gifted him or her for leadership, no matter how they are wired. They also learn what it means to both lead and follow as a member of a team. Students come away from Emerge challenged to put their gifts, insights and experiences to use in their youth ministries and on their campuses.
Don't just take our word for it!
Can we convince you of just how wonderful Emerge is? …perhaps if we let the High school students speak for us.
I am so excited to see what God does with these kids! My goodness, this is a great group of leaders rising up. THANK YOU for putting on this retreat. I loved the 3 spiritual practices. I wish we had more time in sharing prayers. Kate
What I enjoyed about this weekend was meeting new people, growing closer to people in my church, learning more about myself. Meghan
The trip was really fun and I applied a lot of knowledge I already knew about God and just expanded it. It was definitely valuable in its own way. It was my first retreat and when I look back on it in the future it will be my first step. Gabrielle
I grew up in a non-religious home, so I really enjoyed being around so many Christians and being able to talk about God without feeling awkward or isolated. I got to know God, my friends and myself a lot better. Emma
I like that the activities and groups were formed, instead of doing everything in our own youth groups. It gave students a chance to test out what they learned from others to bring a back and do with each other. Katie
I enjoyed our 20 minute silent walk being just with God. Katlyn
Spritual Practices, seeing students stretched, as a leader being able to participate in the courses. Sandy