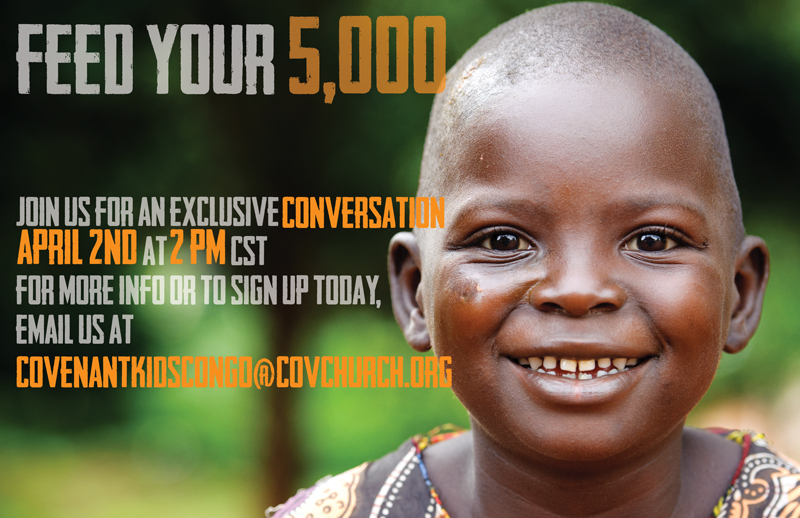 World Vision's 30 Hour Famine has become a regular part of youth ministry and church life across the country – and this year is no different! The unique opportunity that Covenant youth have this year is to partner with Covenant Kids Congo powered by World Vision to stand alongside our sisters and brothers in the Democratic Republic of Congo.
Schedule a 30 Hour Famine event with your church's youth ministry and stand alongside our Congolese sisters and brothers as they work to end the cycle of extreme poverty in the Equateur province. By partnering with World Vision and Covenant Kids Congo, you'll not only be able to raise awareness on how the Covenant church in Congo is working towards clean water, to end senseless malaria deaths, as well as beat back hunger, further grow education efforts and bolster the economy through micro-enterprise, you'll also have the opportunity to designate your funds toward this unprecedented project.
We've made great strides in the last 6 months – over 5,000 kids have been sponsored by Covenant churches across the US and Canada. But there remains much to do, in a country where 3 out of 4 of our Congolese friends do not have access to clean water.
In order to learn more about how your church and youth  can be part of this incredible movement, join Aune Carlson and Adam Phillips online for an exclusive WebEx conversation on April 2nd at 2pm Central. We'll share what other churches are doing, field questions, and help walk-through your very own 30 Hour Famine effort this year with Covenant Kids Congo.
Register Now to join the conversation on April 2nd at 2pm CDT.
Become a child sponsor and you'll provide a child and others in his or her community with access to life-saving basics like:
Nutritious Food
Clean Water
Healthcare
Education