A Journey of Discovery by Addition, Subtraction and Introspection
Lent is the time in the Christian year that leads us to Easter and our celebration of the resurrection of Jesus.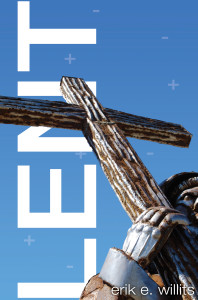 This isn't just another devotional book. This is a guide to a 40-day journey to resurrection.
Lent? What is Lent? Is it that stuff you dig out of the depths of your pants pocket or your belly button? (No. That's lint by the way). Maybe you think Lent is something only other churches do.
Even if you're not familiar with Lent, you can probably agree that Easter is essential to the life of the followers of Jesus. It's the time of year when we are intentional about retelling and rehearing the story of Jesus' death and resurrection.
Because Christ invites His followers to not just hear about the resurrection, but to participate in it, Christians have historically taken the 40 days leading up to Easter to prepare their hearts and minds to enter the story of Jesus.
This little book is a guide…a help…a companion on the 40-day journey of prayer and Christian practice known as Lent. On this journey, you'll practice the disciplines of addition, subtraction, and introspection so that you may more fully participate in the life, death, and resurrection of Jesus Christ.
This is Lent. And we take this journey because we all need resurrection.
Pre-order this book Today! Expected to ship by February 8th, 2013