Mark Oestreicher is a veteran youth worker and founding partner in The Youth Cartel, whose recently released book, 
A Beautiful Mess
, will help you experience the freedom of your calling. You can find Mark on his blog: whyismarko.com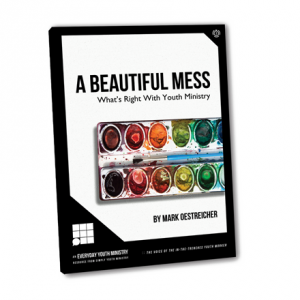 .
This book is a breath of fresh of air! It focuses on what is right and allows youth pastors to be encouraged. Reminding us that we are making a difference as we continue to serve students with the love of Christ.
When you think about the state of youth ministry today, are you an optimist or a pessimist? Do you cheer or fear? Is the glass half full or half empty? In this honest, frank, blunt examination, veteran youth worker Mark Oestreicher offers a fresh perspective on what's working in youth ministry today—and discovers that perhaps things aren't as broken as some of us might have thought.
Theologically and anecdotally, we can uncover plenty of encouraging signs in the realm of youth ministry, according to Oestreicher, whose youth ministry experience includes time as an in-the-trenches youth worker and as a publisher of youth ministry books and resources. A Beautiful Mess features insights on the issues and opportunities facing youth workers, including the trend toward longevity in ministry, the power of smaller churches, the work of the Holy Spirit, the rewards of authentic relational ministry, the need for integration instead of isolation, and the centrality of faith and humility.
This book will help you experience the freedom of your calling, rather than the stress of expectations. You'll discover an abundance of reasons to remain optimistic, intentional, and faithful as you engage in the lives of today's teenagers.
Happy Reading!