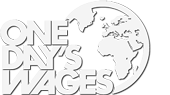 One Day's Wages is very excited to partner with Spark Ventures to provide 350 Children in Zambia access to better education and more comprehensive health education and care.

We are releasing the first $10,000 upfront to provide uniforms, shoes and textbooks, and our hope is to match it for a total of $20,000 to cover the cost of two health clinics and HIV/AIDS education throughout the school year.

Who is Spark Ventures?

Spark Ventures is a Chicago-based nonprofit that partners with grassroots NGOs in developing countries that focus on child nutrition, education and health care. Spark strengthens and sustains these partners by providing resources and support. They are currently partnering with Hope Ministries, which operates a community school and an orphanage in Ndola, Zambia.
Read more about their partnership and project here.