Ben Pease – Youth Pastor, Salem Covenant Church, Minnesota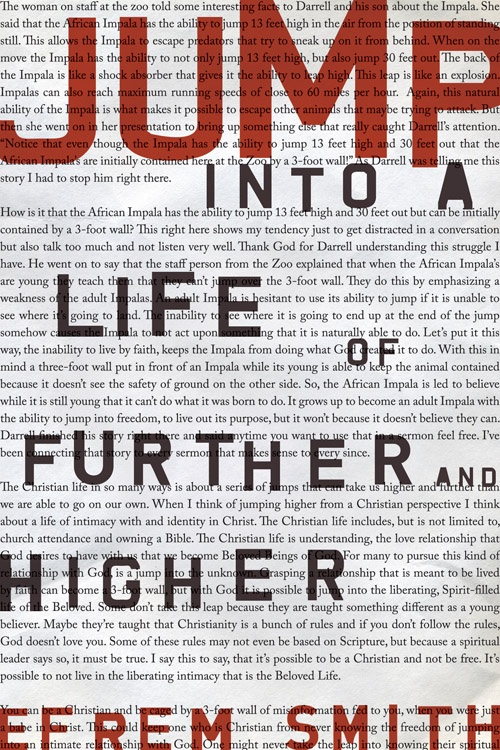 I glanced at the title of Efrem Smith's book and saw the words, "Jump Into a Life of Further and Higher."  Knowing Efrem mostly from his speaking but also a bit personally, I knew this couldn't be a self-help book pitching "actualizing a better you."  I suspected instead that the book would focus on taking bold, sometimes surprising leaps of faith in our public lives in the service of God and for the good of God's people.  This book is indeed about that, but it is also about so much more.
Smith's premise is that all of us have walls holding us back from what we have the power to be and do, and are in fact called to be and do.  Based on the story of the African impala, which can be trained by zookeepers to be restrained by a three-foot wall, Smith explores the common hindrances in our lives that, while being very real, do not impose the restrictive limits that we or others have granted them power to impose.  Efrem does speak powerfully to kingdom-oriented and often counter-cultural acts to which we may be called to jump up or in.  He begins his argument, however, with a jump of identity.  Smith calls this the jump to the "beloved self."  By posing the questions, "Who am I?" and "Who loves me?" Smith addresses the multi-layered issue of connection – connection to our true selves, to Jesus Christ and to the Church.
Smith argues that only after making the jumps to a proper understanding of the beloved self and to healthy connection with the beloved church are we truly ready to engage powerfully and meaningfully in our call to the beloved world.  Using the civil rights movement and his own life and ministry experience as examples, Smith demonstrates that leaps that are both significant and well-directed indeed often start with a transformed individual connected to a reconciled (and reconciling) wider group for the purpose of Spirit-led, God-empowered impact in the world.
As a youth pastor, I sometimes find myself asking a question that I hear echoed by colleagues in ministry: "I feel this urge to jump into something new/different/bigger/smaller in my life and ministry, but I am trying to discern whether God is truly calling me to make that jump."  Efrem's book reminds us that, while some of our life jumps may have us taking to the streets and transforming cities and nations, others don't require that we leave our homes or offices, as we jump the barriers between ourselves and God's intentions for what we do and who we are.