By Mario Valdes, Merge TF Mexico​
During the past few years of running​ Merge​ mission trips​,​ I have seen a decrease in the number of Senior Pastors participating. I wonder why? But then I think the pressure of running a church and pastoring their flocks, plus having enough personal family time, makes it almost impossible for Senior Pastors to attend mission trips nowadays.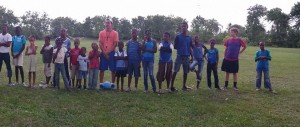 Thankfully this summer TWO Senior Pastors came with their mission teams. I was excited to have them. They play such a tremendous role during the trips. I do believe their personalities produce a big impact not only with their flock, but also to the local people.
Usually trips are packed full of activities all-day and all-week long. But I've noticed for Senior Pastors the trips are primarily about spending time with locals in order to develop RELATIONSHIPS. By the way, that is one of Merge's Big Three Core values (hee hee hee). Talking, smiling, listening without totally understanding what someone from another culture/language is saying, smiling some more, praying, calling for interpreters to help, praying even more, preaching, encouraging (do not forget the smiling), caring, leading, praying, and on, and on, and on!!!!!!
I'd like to recognize and thank Pastor Becky Poor of Saranac Community Church in Saranac MI and Pastor John Duball of New Day Covenant Church in Rochester MN for participating in their church's mission trips this summer. Your presence made a huge difference in people's lives.
Click here to learn more about Merge.