In Colombia this week, excited laughter and eager spirits fill hallways and classrooms as children are headed back to school!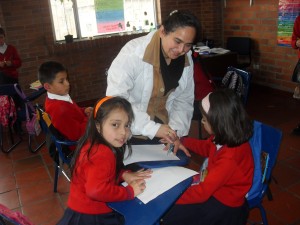 Our partnership with the Colombia Covenant Church helps children in displaced families throughout Medellin, Bogota, and Barranquilla receive an education that will empower their futures and invite them to experience the love of God.
Ten-year-old Dylan has encountered the healing power and love of Jesus Christ at Bethel Covenant Foundation. At Bethel, Dylan is making significant changes from a childhood lifestyle filled with drinking, drugs, and stealing and now dreams of becoming a better person, which includes helping his mom complete her education too.
Fourth grade teacher Claudia Ramirez in Bogota shares that "every day is a new day that God allows me to get close to these children, not only as a teacher but as a friend and counselor. God has put me here to help form spiritual and moral values in these children by teaching God's Word and guiding them in His ways. I want my children go very well prepared academically in the area mathematics, and spiritually ready to make decisions and deal an unknown world for them."
Please PRAY:
for these children's education as they pursue their dreams

for protection and safety

for their teachers

for their faith as they grow in the knowledge that Jesus loves them dearly
Sponsoring through Covenant Kids provides scholarships for children, teenagers, or young adults so that they may participate in programs where educational, social, physical, and spiritual needs are met. Consider partnering with us!