Our denominational headquarters are bustling with delight these days, as Julel Mboka, President of the Covenant Church of Congo (CEUM), meets with Women Ministries, the Paul Carlson Partnership, Covenant Kids Congo, and Covenant World Mission to continue building relationships and seeing what can be done to build up believers in the Democratic Republic of the Congo.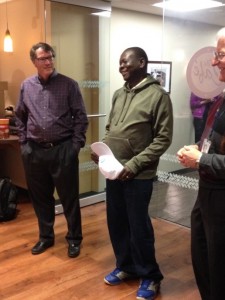 For the month of April, President Mboka has been traveling and visiting churches across the United States. He has shared with us how exciting it has been for him to see what his brothers and sisters are doing in America.
The Covenant Kids Congo powered by World Vision is 7,000 child sponsorships and 700 churches strong.
To sponsor a child or to find out how your church can host a Hope Sunday Event, click here. To read more about the Covenant Church of Congo, click here.