Prayer is an es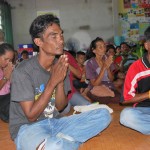 sential part of walking with Jesus Christ as individuals and communities spend time in God's presence. Prayer is an essential part of ministry that reaches into our neighborhoods and around our world. Prayer is an essential part of ministry that reaches into our neighborhoods and around our world. "Jesus emphasized the importance of prayer as He taught His disciples. When Jesus saw the multitudes in need, for instance, He did not tell His disciples to go out and meet all of those needs. Instead, He told them to call on the Lord of the harvest to send out workers into the harvest (Matthew 9:36-38)." (Paul Borthwick, A Mind for Missions)"
Through the discipline of prayer, we remember God is God, and we are not. "Be still and know that I am God; I will be exalted among the nations, I will be exalted in the earth." Psalm 46:10. In prayer, we connect with God – Father, Son and Holy Spirit – acknowledging that change in this world is possible only through his power, love, and grace.
"To pray is to change. Prayer is the central avenue God uses to transform us." (Richard Foster, Celebration of Discipline). Spending time in prayer shifts our thinking, shapes our will, calls us to surrender needs and concerns, draws us to listen to the One who loves us and loves this world. Prayer also effects change in the lives and circumstances of those for whom we pray. God answers prayer and somehow, remarkably, interacts with our prayers to make a difference.
If you would like to join people from all over the US and Canada who are praying for missionaries and ministries connected to Covenant World Mission, you can sign up for the weekly Praise and Prayer List. We also have a bookmark available on Prayer for the World.