Covenant missionary to the Czech Republic, Fred Prudek, was just in the Democratic Rep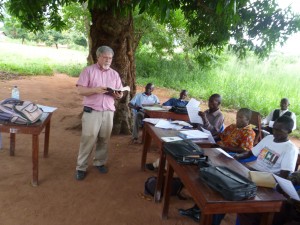 ublic of Congo (DR Congo), teaching at the seminary there. Sounds like he had a wonderful trip!
Fred writes:
"I arrived home in Prague last evening. Overall the trip went well. I was healthy for the whole time. My plane connections all arrived on time, which is big when flying domestically within the DR Congo. My translator did well.  I was able to sleep fairly well for the most part. And my students were excellent. They were the same students as I had in November of 2010, so they knew me and knew my style. They were responsive to my questions, and came up with the some insights that really surprised me. I taught from 8 a.m. to 3 or 4 p.m. with time off for lunch. I met with two students each day for lunch. By the way, those were the only students who got lunch that day. Some students rode their bikes over very tough terrain, about 350 miles, to get to the class. I also got to preach one Sunday to a congregation of 1,300 people.
"Thank you for your prayers. I really felt affirmed while I was teaching. One day I felt like Eric Liddell, "I feel God's pleasure when I teach."