By Erin Dougherty, Associate Pastor at Clairemont Covenant Church in San Diego, CA
"Open the eyes of my heart Lord
Open the eyes of my heart
I want to see you, I want to see you"
This past summer, a group of 15 adults, college and high school students from Clairemont Covenant Church went on a mission adventure in Ecuador, specifically in the Quechua Indian town of Punguhuayco. Prior to our adventure, we knew we would be providing a Children's Program several days at the Covenant Church in Punguhuayco. We also knew we would be helping to construct a new home for the Pastor, whose previous home had been damaged in an earthquake. However, this being our first time to Ecuador, there was much about the people, the culture and the experience that we didn't know.
The evening of our first day of ministry in Punguhuayco, we gathered as a team to spend time in worship and talk about our experience thus far. We had met a lot of new people, eaten our first authentic Quechuan meal, many of our team members had seen fireflies for the first time and we had gotten situated in our "home" for the duration of the trip.  During our closing time of worship several members of the local church began to trickle in and join our circle. They didn't know what we were singing, but there is something about worship music that transcends language.
After our time concluded, one of the local men got out his guitar and another his pan pipe and began to play one of their favorite worship songs for us. Little did we know this was the beginning of a session of "dueling worship." We were up next and chose a song that we knew in Spanish, "Open The Eyes of My Heart Lord." They were familiar with this song and broke out in applause when we were done! After about an hour of sharing in song we parted ways for the night.
The next evening we had a praise and worship service at the church. They asked if we would lead a couple of worship songs. We picked out a couple of fresh songs from our repertoire and when we concluded something happened that was definitely a first for us. There was a call for an encore! They wanted us to sing "Open The Eyes of My Heart Lord" again. This became our signature song and at each of the following worship services we sang this song together!
The words of this song became my prayer for our time in Punguhuayco. "God, open the eyes of our hearts that we might see YOU in the lives our new friends and the ministry of our new sister church."
At the end of our time there, they thanked us profusely for coming to Punguhuayco and for the financial resources for the building project. But the gratitude went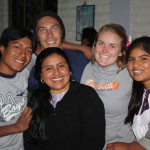 both ways.  We had the opportunity to see God as the ultimate provider when we worked with kids and know that several of their meals and their ability to go to school is a direct result of God's provision. We saw God as our strength as we moved what seemed like an endless pile of rocks up from a stone quarry and then up a hill to be used to make concrete. We saw God as the giver of wisdom as we helped Rafael, the construction foreman, with the building project and listened to his story of how he only has a 2nd grade education but God has given him the knowledge to build. We saw a God of love when we were treated with incredible hospitality.  We saw a Triune God as we worshiped together in three languages – Spanish, Quechua and English. We saw a God of grace as we heard the testimony of a once troubled teenager who came to the church by himself, accepted Christ and is now the town evangelist.
"To see you high and lifted up
Shining in the light of your Glory
Pour out your power and love
As we sing holy, holy, holy"
God, we thank you for opening our eyes to see you high and lifted up, shining in the light of your glory, pouring out your power and love in and through our brothers and sisters in Punguhuayco, Ecuador.