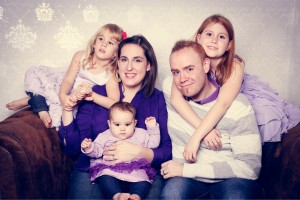 Stephanie came to faith during high school through the ministry of Youth For Christ. As she recalls the most important moments of her faith journey, she realizes God provided countless mentors to guide and shape her. During college Stephanie sensed she was being called to full-time ministry because of encouragement from her college pastor and affirmation from her faith community. Phillip was raised in a Christian home and appreciates the strong faith his parents modeled. While in college, Phillip made an adult commitment to follow Jesus Christ, and committed his life to serving in full-time ministry.
Stephanie and Phillip's hearts have been ignited for world mission as a result of their time visiting countries abroad, their education at Thiel College and Northern Seminary and membership at Parkwood Community Church. They witnessed God calling them to global mission and community outreach through pivotal life stages and interactions with people from diverse cultures.
Phillip received his Bachelor of Arts from Thiel College (2007, International Business & Business Administration, German minor, Greenville, PA), and his Master of Arts from Northern Seminary (2010, Christian Ministries, emphasis in Cross-Cultural Studies, Lombard, IL). Stephanie received her Bachelor of Arts from Thiel College (2008, Psychology & Religion, minor in Music, Greenville, PA), and her Master of Divinity from Northern Seminary (2011, emphasis in Pastoral Counseling, Lombard, IL).
Phillip and Stephanie Voland were commissioned at the 2014 Annual Meeting of the Evangelical Covenant Church to serve as short term missionaries to Germany with Covenant World Mission. They will be working in the areas of church planting, evangelism and discipleship.  Phillip and Stephanie are members of Parkwood Community Church in Villa Park, Illinois, a suburb of Chicago.