Olonu Ndaba is a testimony to her family and neighborhood.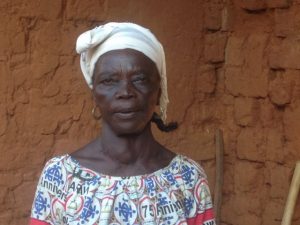 Olonu is a member of the Bolingo (Love) women's savings group.  She is 75 years old and has been a widow for 11 years.  As a part of the Bolingo women's savings group each money Olonu saves money she earns from selling firewood and cassava.  She has already saved and purchased 50 sheets of tin roofing for her house.  When her savings group opens their savings box on June 25 she will have enough money to buy the other materials to finish her new roof and repair the walls.  Through her savings group Olonu is becoming empowered; she is growing in self-esteem and worth as she provides for her family.  She says "I am thankful to God for how He is using me to be an example to my neighbors and family."
Below she explains that she is only missing wood for the trusses for the side and her house will be completed.