Last week we had a GREAT time of CHE (Community Health Evangelism) training at Bogose-Nubea.  We were with the 18 head nurses of each of the health centers and the 18 Presidents of the CODESA for each area of health in the zone.  CODESA stands for Comite de developpement de Sante (Health Development Committee).  In the 2 full days of training we focused on introducing them to fundamentals of CHE.  The newly appointed CHE trainer/facilitator Rev. Mandio also participated.
We covered lessons on: what is holistic health, the difference between emergency aid and development, development principles in the Biblical story of the paralytic, community ownership, assessing the needs and resources of the local community,  a basic description of CHE and our thoughts on how it will relate to the existing public health structure and forgiveness.
With the educational level of the participants along with they being more used to structure and reporting, they grasped ideas faster and were better at discussions and understanding.  We had planned to be there 2 ½ days but after teaching all the lessons we had planned and adding a few more we finished after 2 days.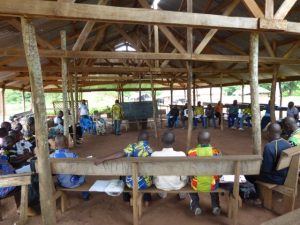 Everyone was very appreciative that they were chooses as the first health zone to work with.  They were very happy for adding the spiritual emphasis to health care. Good health is a good relationship with God, with yourself, with other people and with the environment.  They especially look forward to CHE coming alongside with more training to equip the local village health agents, called the relais communautaire or RECOs.
Dramas are an important part of CHE lessons.  They introduce a topic and connect the participants to the issue.  In the above we one person learning to cross a river and then teaching his friend how to do it.
Dr. Gigal, the medical head of the health zone, is a GEM!  He is passionate about health and development and fun to be around.
In the course of the training and discussions we learned a lot more about the functioning of the health zone. We found that there is more cross-over with CHE than we realized.  We believe that working within the health zone structure will be a good avenue for implementing CHE.  The challenge before us and Rev. Mandio will be to provide the regular training to the village health committees over an area of 9,000 km2 with numerous bad bridges.