Last week I joined the Covenant Kids Congo (CKC) team on their visit to the expanded and renewed Bokonzo water system.  Thanks to CKC powered by World Vision for renewing this critical water source for the Bokonzo, Gemena II and Camp Yola neighborhoods of Gemena.  Here's what I saw.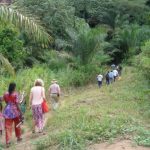 We are at the top spring which gives 1.6 gallons per second or 96 gallons per hour.  WOW!
Other than the CKC team and the WV personnel leading the visit you cannot see anything because the work is all underground.  The spring itself, actually several springs coming from the hill I'm standing on, seep into a catchment basin in the foreground of the picture.  The basin is a concrete structure which collects the water and allows the sand to settle out.  Two times per the basin has to be cleaned out through a clean out opening.
The newly capped spring gives 1.6 gal/sec.  The original capped spring, a project completed in about 1980, was redone and produces 1.3 gal/sec.  That is a total of 2.9 gal/sec or 175 gal/min, distributed by gravity to thousands of people.