We were tooling along, having an interesting discussion as we always do when Annelise and Kim are around, and there, blocking our passage, was a big tree.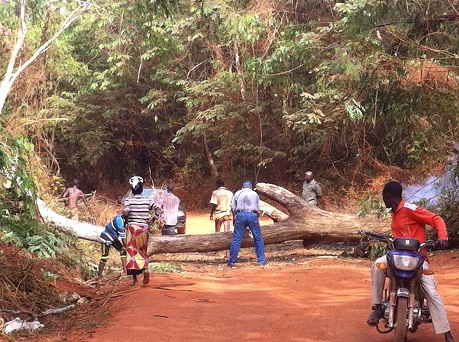 Kim jumped right in to help, spelling the guys chopping with the ax and then pulling the movable portion off to the side with his truck and trusty tow rope.  After which everybody pitched in to get it completely out of the way of traffic.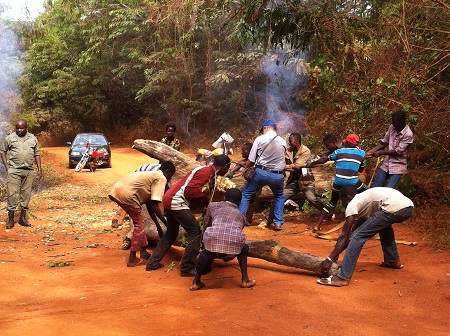 Thanks to many willing and strong guys, we weren't delayed more than 30 minutes, able to resume our trip to visit friends and of course the crazy conversations.  I am so thankful to be where a situation like a tree across the road gets taken care of quickly, and that Kim happened to be driving today.  If it had been just Annelise and me, it would have been more than just 30 minutes – even though our truck has a winch on it, I'm not sure I know how to use it.  Four wheel drive, the kind you have to get out of the truck to lock the wheel hubs in?  Yes, barely.  But using the winch?  I can just imagine me and the scene from the Gods Must Be Crazy – you know the one when the guy manages to pull the vehicle up into the tree, with the winch!  Suffice it to say, I'm grateful for guys with machetes and axes and strong arms.   Hey, here's a scenario!  What if we happened along just as the tree was falling??? Thank you, friends, for praying for us. Thank you, Lord, for protection today.